Platini confirms bid to replace Blatter and "give FIFA the dignity it deserves"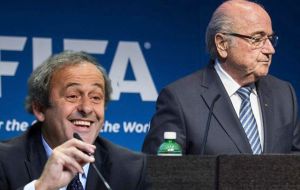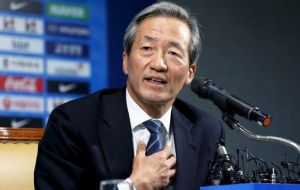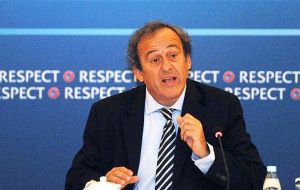 Michel Platini launched his bid to replace Sepp Blatter at the helm of world football, pledging "to give FIFA back the dignity and the position it deserves".
On Wednesday he sent a letter to the leaders of FIFA's 209 member associations, some of whom he canvassed for their support at the 2018 World Cup draw in St Petersburg last Saturday.
"This was a very personal, carefully considered decision, one in which I weighed up the future of football alongside my own future," Platini said in the letter.
"I was also guided by the esteem, support and encouragement that many of you have shown me."
The 60-year-old is the first to declare his intention to run for the FIFA presidency after Blatter announced on July 20 that he would definitely step aside at the Extraordinary Congress in Zurich on Feb. 26.
Korea's former FIFA ExCo member Chung Mong-joon is considering standing for the top job in world football and could make an announcement about his candidacy in August.
Prince Ali of Jordan, who ousted Chung as Asia's FIFA vice-president in 2011, failed in his challenge to remove Blatter at the FIFA presidential election in May (securing 73 votes to Blatter's 133). Days later the 79-year-old shocked the international football community by announcing he would lay down his mandate at the upcoming congress. Billed as the UEFA-backed candidate at the time, Prince Ali won't run again this time around.
Platini plans to restore the tarnished credibility of scandal-hit FIFA. The three-time World Player of the Year, UEFA president since 2007 and a member of the FIFA ExCo since 2002, vowed to work tirelessly "in the interests of football".
"There are times in life when you have to take your destiny into your own hands," he said. "I am at one of those decisive moments, at a juncture in my life and in events that are shaping the future of FIFA."
Faced with the massive job of helping reform FIFA amid the biggest bribery and corruption scandal in the federation's 111-year history, Platini said "recent events force the supreme governing body of world football to turn over a new leaf and rethink its governance".
Platini said that in recent months, he had defended his ideas and proposals "to give FIFA back the dignity and the position it deserves."
According to hsi statement, published on the UEFA website, he wants to unite world football by bringing the continental confederations together and offering all national associations a common cause – "listening to everyone and respecting the diversity of the game around the world."