UK Overseas Territories agree on a 'unified front' for December's JMC in London
Thursday, July 30th 2015 - 22:31 UTC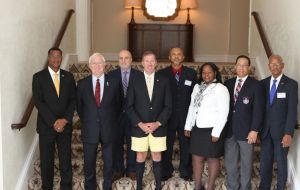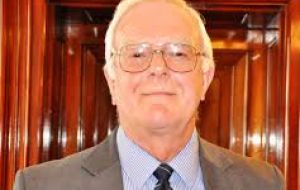 Leaders of several British Overseas Territories meeting in Bermuda released a joint statement following a Pre-Joint Ministerial Council two-day meeting held last week in Hamilton. The goal of the international gathering was to discuss matters of common interest in order to present a unified front next December at the JMC in London.
The purpose of the JMC is to implement the principles espoused in the 2012 White Paper on Security, Success and Sustainability and to agree at the ministerial level on collective issues between Overseas Territories governments and the UK government.
Representatives from territories (OTs) including Anguilla, the British Virgin Islands, the Cayman Islands, the Falkland Islands, Gibraltar, Montserrat and the Turks and Caicos Islands all took part in the meeting in Bermuda this week.
According to the joint statement, the discussions covered a number of topics, including economic diversification, strengthening families, good governance, meeting global standards of financial accountability and environmental sustainability.
Notable measures included:
• seeking innovative solutions, in partnership with the UK and developing robust and effective infrastructure across all of the OTs;
• developing innovative healthcare and social services in the territories, including mental health services and the creation of an OT sports council;
• reiterating the UK's constitutional responsibility for defending OTs in international forums among key stakeholders where they have committed to meeting international standards;
• continuing the fight against financial crime and continue to be responsible international financial centers that facilitate global trade and investment in line with the emerging global consensus.
The statement concluded: "We reaffirm our commitment and respect for the principles outlined in our constitutions and will uphold our obligations to our electorate and the people we serve."
Michael Dunkley, the Bermuda Premier said in a statement released today: "We had a very productive series of meetings where some very critical issues were discussed. Each territory has some concerns that are very unique to their specific countries.
"However the common thread during our two days of talks is that if we are to make any progress in at the Joint Ministerial Council meetings later this year in London, then we must present a unified front so that we can achieve a beneficial outcome for all our countries. I was encouraged by the input and support from all the Overseas Territories Leaders in attendance and I look forward to seeing them again later this year at the JMC.