Dollar in Chilean Pesos climbs to its highest level since December 2008
Friday, July 31st 2015 - 05:33 UTC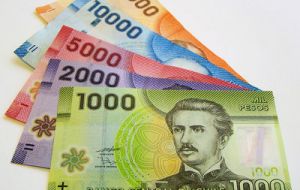 The US dollar ended Thursday trading in the Chilean money exchange market at its highest since December 2008, that is 674 Pesos for the greenback. Currently and seven years ago the main reason has been the US monetary policy: the sub-prime crash in the US and fears of the debacle expanding to the rest of the world, and now growing chances of the Federal Reserve deciding on a rise of the prime rate.
In effect earlier this week the Fed gave a promising outlook for the US economy and employment, although not for inflation still below the 2% midterm average rate, but expectations are that at the September meeting the FOMC will agree on a 25 points interest rate increase, the first since the financial crisis of 2008.
The possibility of higher rates has strengthened the US dollar worldwide, and to this must be added in the case of Chile, the fall in the international price of copper, its main export, because of a slowing down of the Chinese economy (leading trade partner) and an overall drop for all commodities demand.
"Despite some promising figures from different sectors of the Chilean economy, the 1% drop in the copper price plus the appreciation of the US dollar, and the minutes from the (Chilean) central bank anticipating low rates for some time", all have helped the US currency to keep climbing in Chilean markets, said Cristian Musalem from ForexChile.
Furthermore since the outlook does not forecast any changes in the rising tendency for the US dollar, "we must anticipate that the current exchange rate will remain at this floor (670 Pesos) for some time to come", according to the Chilean analyst.