Bradesco buys HSBC operations in Brazil for 5.2bn dollars
Tuesday, August 4th 2015 - 09:27 UTC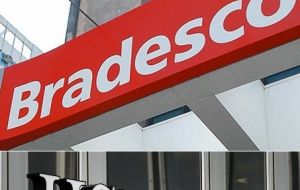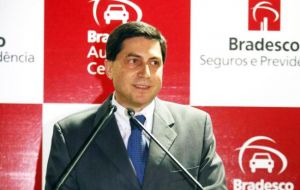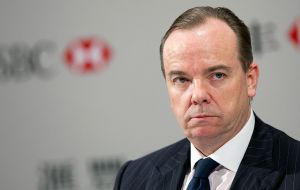 Brazil's Banco Bradesco SA agreed to buy HSBC Holdings Plc's Brazilian unit for a surprisingly high 17.6 billion reais ($5.2 billion), narrowing the gap with larger rivals while boosting its base of affluent customers in Latin America's largest economy.
The deal between Bradesco and Europe's largest bank includes the latter's Brazilian retail banking and insurance units. The agreement, which still requires regulatory approval was sealed on July 31.
The all-cash acquisition will allow Bradesco to close the asset gap with larger rivals Itaú Unibanco Holding SA and state-controlled banks Banco do Brasil SA and Caixa Econômica Federal. HSBC Brasil's focus on high-income customers fits well into Bradesco's plan to ramp up sales of specialized financial services for the wealthy and larger corporations.
The purchase price, which could change to reflect the net asset value of both businesses, is equivalent to 1.8 times book value, far above what analysts expected and above Bradesco's own valuation.
Chief Executive Officer Luiz Carlos Trabuco, speaking on a conference call, promised to integrate HSBC Brasil fully into Bradesco's retail banking insurance platform within the next three to four years.
Analysts, who estimated that Bradesco could deduct as much as 6.5 billion reais in goodwill from the HSBC acquisition, were skeptical of the goal. Francisco Kops, an analyst with J Safra Corretora, said it will take at least five years for HSBC assets to be fully integrated into Bradesco.
On the other hand, HSBC's sale of its Brazilian business represents a retreat from the second-largest emerging market economy after years of disappointing performance.
HSBC, which arrived in Brazil late in the 1990s, never gained enough size to pose a real threat to Itaú, Bradesco or Banco do Brasil, the nation's top lender by assets. HSBC Brasil has 854 branches and 21,000 employees. Its assets of about 170 billion reais represent about 2.3% of the total for Brazil's banking system.
HSBC, Europe's largest bank by market value, was advised on the deal by its own investment banking unit and Goldman Sachs Group Inc. Bradesco was advised by its Bradesco BBI investment.
HSBC had announced in June that it would sell its operations in Brazil as part of a wider restructuring plan to cut costs, reduce risk and increase its focus on Asia.
"We announced at our investor update on June 9 that we were targeting a series of actions to generate increased value for shareholders," Stuart T. Gulliver, the chief executive of HSBC, said in a statement on Monday. "I am pleased to be able to announce today a transaction which achieves both a solid financial outcome and swift delivery of one of our stated actions."
The bank based in Britain generates more than half of its earnings in Asia, plans to shed as many as 50,000 jobs and sell several underperforming businesses as part of the overhaul. HSBC said it planned to maintain a smaller presence in Brazil to "serve large corporate clients with respect to their international needs."