Humpback whale surfaces in Buenos Aires alongside luxury yachts
Tuesday, August 4th 2015 - 13:16 UTC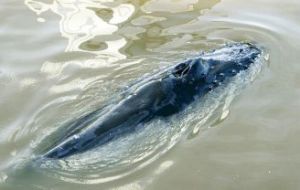 A whale appeared in the marina of one of Buenos Aires' most exclusive up market neighborhoods on Monday, periodically surfacing alongside luxury yachts while hundreds of onlookers tried to capture the moment with smart phones.
The whale first surfaced in the early afternoon in Puerto Madero, an upscale area of towering office buildings and high-end lofts. In the middle of the area is a body of water the size of a few square blocks where many residents keep boats.
News of the whale quickly spread on social media and was broadcast live by local stations, prompting hundreds to line up along the port area to catch a glimpse.
Puerto Madero was built in the late 19th century to better accommodate an increasing number of ships coming into Buenos Aires, at the time one of South America's largest port cities. After decades of decay, it was transformed by a major urbanization project in the 1990s and today is one of the city's trendiest districts.
Within a few hours, the normally sedate quarter with pricey coffee and pastry shops had a carnival feel as vendors sold cotton candy and soda and families with small children kept an eye out for the whale.
Each time the whale surfaced, people in the crowd gawked and rapid-fire clicks of cameras pierced the air.
Mariano Sironi, scientific director of the Whale Conservation Institute in Argentina, initially said the animal appeared to be a minke or a humpback whale. But later, after viewing video and talking with a colleague, he said he thinks it is a humpback.
Sironi said whales sometimes get disoriented and swim upstream in rivers. When that happens, the animal often needs help to get back to sea, which usually involves using boats to direct it back from the direction it came.
A fresh-water environment like a marina can hurt the skin of whales, provides no food and also makes it harder for them to swim because the water doesn't have the buoyancy effect of salt in the ocean, Sironi said.
While there is no time limit on how long a whale can live in fresh water, "every day it will get weaker and be in worse health," he said.