UK embassy farewell for Uruguay's rugby team Los Teros that will be disputing the World Cup
Friday, August 7th 2015 - 07:10 UTC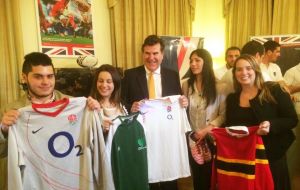 British Ambassador, Ben Lyster-Binns, gave a farewell for the Uruguayan Rugby Team, Los Teros, before they leave for the World Cup in England and Wales from 18 September.
Lyster-Binns remarked on the Uruguayan team's fantastic achievement in reaching the World Cup. And he congratulated them on their excellent performance in their victory over the Argentine National Rugby Team, Los Pumas, last Saturday.
"We wish you the best of luck in your matches against England and Wales, although we might not be thinking quite the same on those match days", he joked.
All the Teros players were present, together with the coaches, the national Director for Sports, Fernando Cáceres, the Sports Director of Montevideo's municipal government, Pablo Sanmartino, and many other people involved with the sport in Uruguay.
During the event Ambassador Lyster-Binns handed over rugby equipment donated by British NGO, SOS Kit Aid.
There is enough kits for 50 teenagers that study at UTU (Uruguayan Technical School) and practice this sport at the Charrúa Stadium, as part of a program implemented by the Uruguayan Rugby Union. The NGO recycles sports kits for the benefit of young people in the UK and overseas so they are given a sporting chance, contributing to their development and social inclusion, as well as helping reduce the impact of discarded kits on the environment.
The British Embassy arranged the donation, made possible thanks to the support of DHL – official logistics partner of the Rugby World Cup- that brought the equipment from England to Uruguay.
The Teros head to Japan on Friday 14 August. They will play their last warm-up matches there before the tournament, which takes place between 18 September and 31 October.
Uruguay will be playing against Wales on 20 September at the Millennium Stadium in Cardiff, and against England on 10 October in Manchester. At that match, Joao Da Silveira, a student at Elbio Fernández School, will present the official match ball to the players, thanks to sponsors DHL.
This will be the 8th Rugby World Cup and the third time Uruguay will participate, along with 19 other countries. The World Cup will be held in eleven cities across England and Wales, including the town of Rugby, considered the birthplace of the sport.
More: http://www.teroslapelicula.com/en/home