Argentine mandatory primaries on Sunday: 32 million entitled to vote
Saturday, August 8th 2015 - 08:30 UTC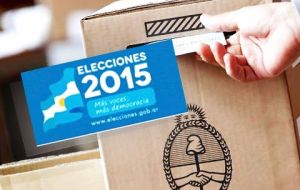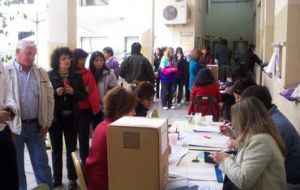 Electoral silence has started ahead of the PASO primary elections (Open Simultaneous, Mandatory Primaries) that will take place on Sunday when Argentines will cast their ballots to choose their candidates to compete in October's general run, including the successor of president Cristina Fernandez.
According to the Argentine Electoral Code, the ban on political campaigning 48 hours prior to the elections, lasting until polls close on Sunday, prohibits all public canvassing events as well as the release of electoral surveys. The voting starts at 8 am on Sunday and ends at 6 pm across the country.
The day of the elections, all popular shows, including theater and sport events, will be also banned as well as the sale of alcoholic beverages. It will be also prohibited to "offer or hand in ballot papers to voters within a radius of 80 meters from the polling stations."
According to the National Electoral Chamber (CNE), 32.032.952 people are entitled to vote this weekend, with the number of eligible voters increasing by 10.58% compared to 2011 figures, when President Cristina Fernández was elected for a second term in office with 54% of the ballots.
Meanwhile Cabinet Chief Anibal Fernández rejected fraud allegations by opposition parties as he guaranteed the "presence and work of all federal security forces" during Sunday's PASO primaries.
"The thing about fraud has been talked about a lot; it has been very much fueled by the opposition, always, but in the past years in Argentina it has never existed due to an inevitable reality which is the presence in the ballot stations of authorities that have to be witnessing and controlling how the voting unfolds and staying there once the election is over," the head of ministers said on Friday morning as he addressed reporters at the government house.
"There cannot be fraud. You equal all the minutes and you will get the real result. There cannot be fraud," the candidate for governor in the province of Buenos Aires insisted.
Queried about yesterday's statements by Mauricio Macri calling on supporters to be careful of fraud, warning against the government "stealing ballots," Fernández said such was "impossible."
"That is a lie. Come on! Tell me how it's done? Give me an example; there is not. So, you will realize, it is something impossible," he affirmed adding the PASO primaries will take place "in calm."
"On Sunday, the security will be in charge of the federal security forces. A very important operation is planned so that everything comes out fine (…). There should be no inconvenient, there have never been major problems with the security. There shouldn't be any now."