"Spain acting as an aggressor and not a European partner" with Gibraltar
Monday, August 10th 2015 - 06:38 UTC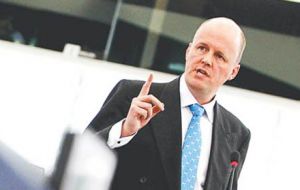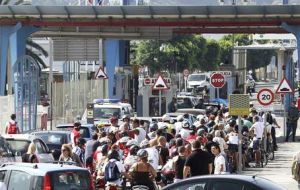 Gibraltar's Conservative MEP Ashley Fox is compiling a dossier of constituent complaints and experiences of crossing the border in and out of Gibraltar. Mr Fox will hand the dossier to the EU Commission and says it will show Spain is acting "as an aggressor and not a European partner", according to a report from the Gibraltar Chronicle.
The dossier will use real life experiences of people who suffered delays as a result of the testing of new border systems, "…a decision nobody was given prior notice of."
The MEP said he had already received a large number of complaints about long delays from tourists, local residents and cross border workers.
"The height of summer is simply not the time to start testing new systems but not informing anybody just proves that these delays are unwarranted, unjust and politically motivated," Mr Fox said.
"The irony is that it is not just inconveniencing Gibraltarians and their local economy it is also causing huge problems for the thousands of Spanish who work in Gibraltar and have to pass through the border twice a day."
"Border problems like this are fast becoming an annual event and enough is enough."
"I want as many Gibraltarians, Spanish citizens and holiday makers as possible to contact me with their experiences. I will then hand every single one to the EU Commission in Brussels."
"It is time the Commission shows leadership and proves to Gibraltarians they are not second class citizens of Europe."