Griesa sanctions Argentina for not turning in information on assets
Thursday, August 13th 2015 - 06:45 UTC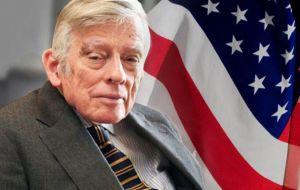 New York district judge Thomas Griesa has said he will consider all Argentine government assets in the United States, except for diplomatic and military ones, as commercial assets which hedge fund NML Capital could try to seize.
The new hearing granted by US District Judge Thomas Griesa between the legal representatives of Argentina and so speculative or "vulture" funds on payments started at 3 pm Buenos Aires time, with New York Judge Griesa giving a green light to a request by the Aurelius hedge fund targeting US$1.4 billion in Bonar 2024 bonds.
Griesa agreed with NML that Argentina should be punished for failing to turn over evidence that the fund wants to use to discover assets. NML, seeking to recover on defaulted Argentine debt, is looking for property that isn't protected by US laws shielding holdings of foreign nations.
The magistrate, who was not looking well and had a bandage covering part of his head, did not say, however, if state-owned oil company YPF, ENARSA or the Central Bank could be considered as "alter egos" and be also seized.
He gave Argentina 10 days to hand out the documents and information demanded by holdout lawyers.