Political accord in Brazil to implement 27 market-friendly measures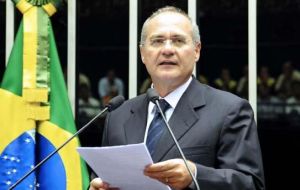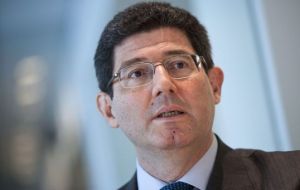 President Dilma Rousseff and leading Brazilian senators are preparing a joint set of major reforms that seek to introduce an agenda of market-friendly proposals, in a move one senior official says is an effort to counter a revolt by lawmakers in the Lower House.
The so-called "Brazil Agenda" proposed by Senate President Renan Calheiros was discussed at a key dinner the embattled Rousseff hosted for senators from her coalition on Monday night as she looks to rekindle economic growth and overcome a major political crisis. The plan is expected to be announced this week.
Many of the proposals are likely to draw opposition within Rousseff's own Workers' Party (PT), though reaction was tame as full details were yet to emerge. The measures are an attempt to stabilize and reanimate the economy, which was downgraded by Moody's on Tuesday, amid a full-blown political crisis which has left the president with the lowest approval ratings of any head of state during democracy.
Reports of the meeting and the talks suggest a rapprochement between Rousseff and Calheiros, whose ties had been strained because of the senator's recent outrage at being investigated for alleged involvement in a corruption scandal at state-run oil firm Petrobras.
A key figure in the talks was Finance Minister Joaquim Levy, who has been charged by the president with restoring Brazil's economic competitiveness. To rumbles of discontent from backbenchers, Levy and Rousseff have sought to introduce austerity reforms to generate growth.
Levy described the talks with Calheiros as "positive" and said both sides agreed that initiatives are needed to boost the economy. He told reporters that he had received a document containing a number of proposals, some of which had already been proposed by the administration and were awaiting approval by Congress. Another meeting is scheduled for the coming days.
Another senior official in Rousseff's Cabinet said the dialogue with the Senate leader was designed to counter the aggressive opposition of the speaker of the Lower House, Eduardo Cunha, since his recent defection to the other side of the floor. It also could help her fend off a potential impeachment attempt over a corruption scandal and a probe into government accounting practices that could potentially remove the PT president from power.
"Many of Renan's proposals fully coincide with our own," Rousseff said during an event on energy investments, which announced the government plans to sign contracts worth 186 billion reais (US$53 billion) for energy generation and transmission.
"They show on the part of the Senate an inclination to help Brazil find a way out of its difficulties as fast as possible," she added.
Eduardo Cunha reacted angrily to the Senate agenda and said any attempt to isolate the Lower House countered the Constitution.
"It won't fly, it's a dumb move," he snapped at reporters. Questioned about claims emerging from the PT that he is deliberately destabilizing the government, Cunha said simply: "I am not an arsonist."
Cunha's complaints may soon be echoed by other PT lawmakers. Among the proposals being discussed are regulating outsourced labor, raising inheritance taxes and introducing paid services in Brazil's government-provided healthcare system.
The 27 measures fall into three areas: business and infrastructure, fiscal discipline, and social protection. They also include raising the retirement age and fast-tracking environmental licensing for infrastructure projects.
"This is a contribution from the National Congress, based on its independence," Calheiros, also of the PMDB, said.