Rain and floods in Buenos Aires province become a political challenge
Thursday, August 13th 2015 - 07:05 UTC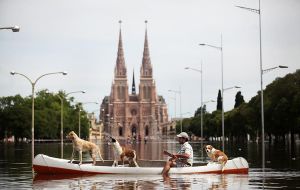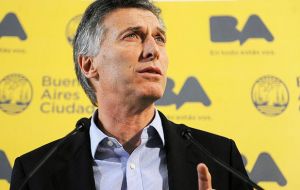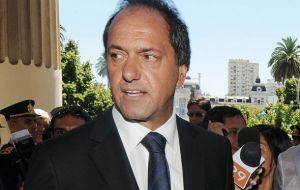 Over 20.000 people are estimated to have been evacuated or suffering flooding because of continued rains in Buenos Aires province where a wind alert for the River Plate area and coastal zones is hampering draining possibilities, a situation which started last week and is expected to last until Sunday.
The Argentine government was quick to reply with promises of interest-free loans and tax freeze payments while a huge effort is underway to rescue and shelter people suffering from the heavy storm.
Argentina's National Meteorological Service (SMN) was maintaining a strong winds warning with gusts expected to reach 70 km per hour, a weather condition likely to make the situation of those severely affected by the flooding in the province of Buenos Aires even worst.
In the northern area of the Buenos Aires province, around 11,000 remained evacuated as a result of the rise of the Lujan, Arrecifes, Salto, Areco and Matanza rivers, among others, following the heavy rains.
However the emergency situation also has a political side, following on Sunday's primaries and ahead of October's general election in Argentina.
In effect the candidate with most votes for the presidential ticket, incumbent Daniel Scioli currently governor of the Buenos Aires province left on Tuesday with his wife Karina for a quick tour of Italy, Spain and possibly China.
This meant that while much of the province was under water, the governor was away, so his runner up and most probable competitor, Buenos Aires City mayor Mauricio Macri decided to move into the province and promise shelter and food to those suffering the consequences in such places as Lujan, where the iconic patron virgin of Argentina has its cathedral.
Immediately an official release said president Cristina Fernandez was personally monitoring the situation, while the relief announcements were made and not much later that Governor Scioli was on his way back.
He is expected Thursday morning to take control of the situation and ensure his Sunday showing can be kept and increased for October when he needs 45% of ballots cast or 40% and a ten points difference over his runner up, something which seems quite distant at the moment.
In effect Buenos Aires province Cabinet Chief Alberto Perez announced Scioli is heading back to Argentina to be "at the front" of all government efforts to assist the victims of the severe flooding hitting Argentina's most populated district since last week.
"Daniel Scioli is of that governors that is where problems are," Pérez said in statements to the C5N news channel, explaining the Victory Front (FpV) presidential candidate was putting off his visit to Italy –where he was going to meet Italian Prime Minister Matteo Renzi and also make a consultation with some medical experts on his arm condition-, to return to Argentina.