Highest PLO award to Cristina Fernandez for supporting Palestinian state
Friday, August 14th 2015 - 09:06 UTC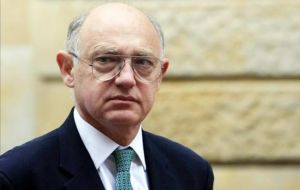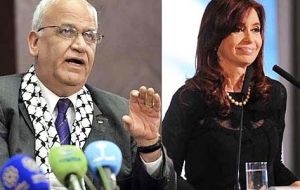 Palestine Liberation Organization (PLO) chief Saeb Erekat praised Argentine President Cristina Fernandez for her support and recognition of the Palestinian state as he paid tribute to the backing of the region's leaders.
"It's very significant that Argentina was on the forefront in leading the majority of the continent in recognizing Palestine," said Erekat, who travelled specifically to Argentina to give president the Palestinian state's highest recognition — the Star of Palestine. The visit to Argentina was Erekat's first trip abroad since being promoted as Secretary General of the PLO in July.
A high-profile Palestinian figure, for many years Erekat served as the PLO's main negotiator in peace talks with Israel.
The award ceremony that was scheduled to be held Wednesday afternoon at Government House was cancelled by the president at the last minute due to the worsening flood situation in Buenos Aires province.
"This is (a) very important (award), because Palestine, in general, never gives awards," Foreign Minister Héctor Timerman said in an interview with Radio La Plata. "The president's involvement in the peace process in the Middle East is very strong."
The PLO leader recognized CFK's role in pushing for a two-state solution, the right of Palestine to live next door to Israel in peace and the government's recognition of the Palestinian state.
Erekat, who arrived in Buenos Aires on Tuesday, was also scheduled to meet with lawmakers and Deputy Foreign Minister Minister Eduardo Zuain. He is also due to give a lecture to the Argentine Council for International Relations (CARI) and hand out awards to several other Argentine figures, including Nobel Peace Laureate Adolfo Pérez Esquivel.
Prior to taking office, CFK publicly demonstrated her support for a two-state solution on multiple occasions.
In 2005, as a senator, she travelled to Israel and the West Bank in order to promote peace talks. Then in 2010, as the PLO leader highlighted, CFK officially recognized the territories the Palestinian state held before the 1976 war with Israel — Jerusalem, West Bank and the Gaza Strip. Two years later, the Argentine Foreign Ministry opened a diplomatic post in Ramallah, the Palestinian National Authority's (ANP) administrative centre.
In 2011, CFK also promoted a free-trade agreement between the Mercosur trade bloc and Palestine. She met that year with Palestinian President Mahmoud Abbas when he visited Buenos Aires.
"I'm used to travelling to Moscow, Berlin, Rome, London and Paris to negotiate, but today I'm in Buenos Aires only to express my gratitude and give thanks for what they (Argentina) have done," the PLO leader said at the time.