Kerry calls for a new era in relations with Cuba, but also urged political change
Saturday, August 15th 2015 - 08:33 UTC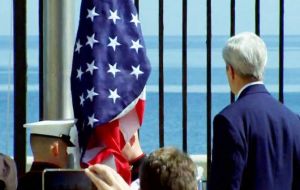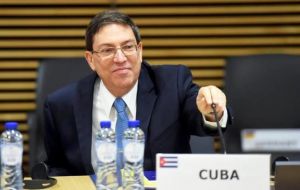 US Secretary of State John Kerry declared a new era in relations as he celebrated restored diplomatic ties in Havana on Friday, but he also urged political change in Cuba, telling Cubans they should be free to choose their own leaders.
The first US secretary of state to visit the Caribbean island in 70 years, Kerry presided over a ceremony raising the US flag over the newly reopened American embassy.
His comments drew a firm riposte from Cuban Foreign Minister Bruno Rodriguez, who defended the Castro brothers regime at a joint news conference and criticized the United States' own record on rights. "We have profound differences on national security, human rights and political models," Rodriguez said.
Speaking at a podium outside the embassy before US Marines raised the US flag there for the first time in 54 years, Kerry made plain that despite the historic opening, Washington would continue to push for democratic reform.
"We remain convinced the people of Cuba would be best served by a genuine democracy, where people are free to choose their leaders," he said. In Cuba the Communist Party is the only legal political party, the media is tightly controlled, and political dissent is repressed.
"We will continue to urge the Cuban government to fulfill its obligations under UN and Inter-American human rights covenants - obligations shared by the United States and every other country in the Americas," Kerry said.
His words were translated precisely into Spanish and broadcast live on Cuban state television.
At their news conference later, Rodriguez said Havana also had concern about human rights in the United States. "Cuba is not a place where there are acts of racial discrimination or police brutality that result in deaths; nor is it under Cuban jurisdiction the territory where people are tortured or held in a legal limbo," he said.
Three retired Marines who last lowered the flag in 1961 took part in Friday's ceremony, handing a new flag to the Marine Color Guard. As the flag was raised, there were loud cheers and applause from the crowd of U.S. and Cuban dignitaries and longtime proponents of US-Cuban engagement, and from people watching from neighboring balconies.
The event took place nearly four weeks after the United States and Cuba formally renewed diplomatic relations and upgraded their diplomatic missions to embassies. While the Cubans celebrated with a flag-raising in Washington on July 20, the Americans waited until Kerry could travel to Havana.
Later in the day Cuba's lead negotiator in talks with Washington told reporters that the island's internal affairs would never be on the table and Havana would never move "one millimeter" to placate enemies in the United States.
"Decisions on internal matters are not negotiable and will never be put on the negotiating agenda in conversations with the United States," Josefina Vidal, director of US affairs for the Cuban Foreign Ministry said.
"Cuba will never do absolutely anything, not move one millimeter, to try to respond," she affirmed after US Secretary of State John Kerry said in Havana that the US Congress was unlikely to ever lift a punishing economic embargo on Cuba unless the Castro brothers' government improved its human rights record.