Brazil's July unemployment up for a seventh straight month
Friday, August 21st 2015 - 06:57 UTC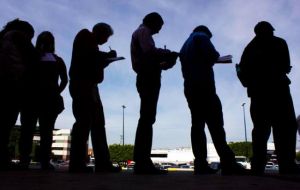 Brazil's unemployment rate rose for a seventh straight month in July to the highest in over five years, government data showed on Thursday. The non-seasonally adjusted jobless rate rose in July to 7.5% from 6.9% in June, statistics agency IBGE said.
Unemployment has risen without interruption from a record low of 4.3% in December, pushed up by hundreds of thousands of layoffs in the manufacturing and service sectors amid higher taxes and interest rates.
The number of Brazilians with jobs in the six major metropolitan areas surveyed by IBGE was nearly unchanged from July 2014 at 22.8 million. The tally of people who unsuccessfully looked for work, however, jumped 56% from the same month a year earlier to 1.8 million.
Wages increased slightly in July, though not by enough to offset the losses caused by steadily rising inflation, currently at 9.56% on a trailing 12-month basis. Salaries discounted for inflation gained 0.32% from June to 2,170.70 Reais ($620). They fell 2.39% from July 2014.
Brazil's economy is expected to shrink 2.01% in 2015 and 0.15% in 2016 as President Dilma Rousseff's government cuts spending and raises taxes to shore up public finances, according to a central bank poll published on Monday.
Mounting job losses have dragged down Rousseff's popularity to a record low of 8%, according to recent polls, while majorities favor her impeachment.
In related news Brazil's largest financial group, Itau-Unibanco Holding said on Thursday it is expecting an increase in the nonperforming loan rate, mainly from the deterioration of the country's labor market.
"Despite the expected increase in nonperforming loan rates, I don't see this reaching a worrisome level since we have good risk controls," the group's CEO Roberto Setubal said in a presentation to investors and analysts.
The proportion of Itau's loans that were more than 90 days overdue was at 3.3% in the second quarter, up from 3% in the first.
The bank is adjusting to the challenging economic situation by focusing on cutting costs, Mr. Setubal said. The bank's total expenses reached 17.8 billion reais ($5.1 billion) in the first half, an increase of 4.5% from a year earlier and slower than the inflation rate, which is currently above 9%.