Brazil's prosecution seeks to charge Lower House speaker and a Senator on Petrobras corruption
Friday, August 21st 2015 - 06:42 UTC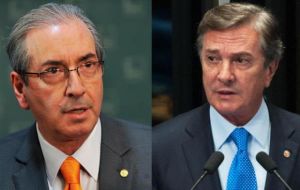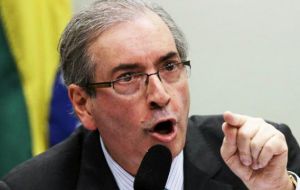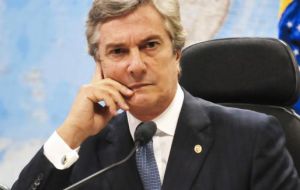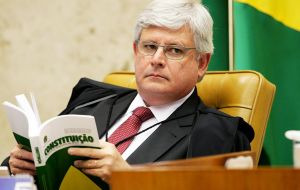 Brazilian prosecutors on Thursday asked the Federal Supreme Court to authorize prosecution of the speaker of the lower house of Congress, Eduardo Cunha, in a massive corruption case centered on state-controlled oil giant Petrobras.
In the same application, Attorney General Rodrigo Junot asked the high court to accept charges against former President Fernando Collor de Mello, who resigned in 1992 - just two years into his term - to avoid impeachment for corruption.
Cunha and Collor, now a senator, are among 50 politicians under investigation over a scheme that saw some $2 billion illegally diverted from Petrobras accounts, according to the company's own estimates.
The wide-ranging scandal involves allegations that leading engineering and construction groups overcharged the oil giant for contracts, splitting the extra money with corrupt Petrobras officials while setting aside some of the loot to pay off politicians who provided cover for the graft.
Because Cunha and Collor enjoy legislative immunity, the AG office needs approval from the Federal Supreme Court to indict them. The nation's highest court is also the only tribunal that can try senior elected officials.
Collor and Cunha will have the opportunity to present exculpatory evidence before the Federal Supreme Court rules on whether to allow the cases to go forward.
The attorney general accuses both politicians of having received kickbacks.
Collor, 65, pocketed roughly $7.5 million between 2010 and 2014 through a "sophisticated money-laundering system" involving some companies he owned and others in which he is listed as an associate, according to documents prosecutors sent to the Supreme Court earlier this month.
The case against Cunha is based on the testimony of a consultant who has pleaded guilty in the Petrobras case and is cooperating with prosecutors.
Cunha, according to the witness, accepted $5 million between 2006 and 2012 in exchange for his help in obtaining a contract to build vessels for Petrobras. The congressional leader denies the allegations and says he is victim of persecution by the attorney general.
Earlier this month, former presidential chief of staff Jose Dirceu was formally arrested on charges arising from the Petrobras investigation.
Dirceu, who was sentenced to prison for bribing lawmakers during the first administration of incumbent President Dilma Rousseff's predecessor and mentor, Lula da Silva, is accused of orchestrating the decade-long corruption scheme