Falklands anticipate a busy cruise season with the return of Norwegian Line
Friday, August 21st 2015 - 07:08 UTC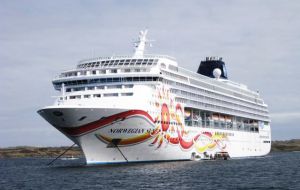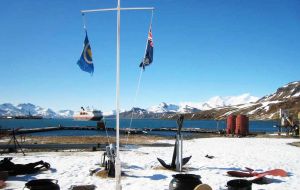 The return of the Norwegian Cruise Line to South America this season with nine planned calls to the Falkland Islands "is a massive boost to our cruise ship industry," Sulivan Shipping Tourism Coordinator Samantha Marsh told Penguin News this week.
"We are looking at an estimate of 60,000 cruise ship passengers in the upcoming season. Of course total arrivals are always dictated by the weather, so we remain hopeful that the weather will be kind to us this year with few cancellations" added Samantha in Stanley.
Last year 43,437 cruise ship passengers landed in Stanley, with six cancellations due to bad weather.
If the hoped for 60,000 visitors pans out then numbers will have crept up to be almost on a par with the 2007-2009 seasons with 62,203 and 62,485 visitors respectively. Shortly after that the impact of the worldwide recession came to call; numbers dropped all the way down to 29,000 visitors in 2012/13, before rising again last season to 43,437.
If you have any connection with cruise ship tourism then put December 28 in your diary; it is going to be a crazy day for Stanley shops, tour and shore excursion operators with three vessels in Stanley on the same day.
They will be the Norwegian Sun, Star Princess and MS Marina. Passengers could total over 5,600. Sulivan Shipping is the agent for all three vessels.
Over the season it is anticipated Stanley will receive 103 calls and 12 of these visits will be passenger exchanges.
The Camp destinations will also be receiving numerous landings this year with approximately 132 booked for various destinations by the expedition vessels.
The first 'big ship' visit will be on November 15 with the arrival in Stanley of the Zaandam, carrying around 1,400 passengers.
Previous to that however, will be eight visits to the Islands in October by smaller vessels comprising the Akademic Sergey Vavilov (the first on October 17) the Sea Adventurer, the Akademic Ioffe and the Ushuaia.
The Norwegian Sun will make its first visit on December 10 with up to 1,936 passengers on board.
Falkland Islands Tourist Board Interim CEO Steph Middleton told Penguin News: "Ahead of this year's season the Tourist Board is gearing up for another busy period. We are currently partnering with new operators in the UK, Europe and the United States developing our tourism products for the Falkland Islands.
"This year's numbers are predicted to be up on last year and we are very pleased to welcome Norwegian Cruise Lines back to the Falklands.
"As we continue to reach out to new and exciting markets we look forward to continued growth and interest from those looking for the next exciting destination to visit."
Bookings up for South Georgia
Bookings for the 2015/16 South Georgia cruise ship season show a new record year is expected. Seventy-two cruise ships are already booked to visit the island between late October 2015 and early April 2016, so it is likely that the number that actually come will exceed the previous highest number of 70 in 2008-9.
Following a record year for passenger numbers last season, when 8,142 cruise ship passengers visited, next season should reach a new high.
The passenger capacity of the booked vessels (if they are fully booked) is just under 10,000. (PN)