Malvinas pic controversy: "Francis spoke with his low tone but strong voice"
Friday, August 21st 2015 - 05:54 UTC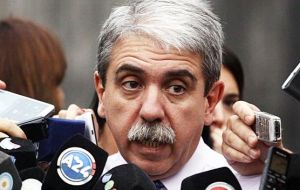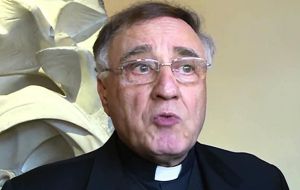 Despite the controversy generated by Wednesday picture which showed Pope Francis holding a banner calling for dialogue between the United Kingdom and Argentina over the Falkland/Malvinas Islands, and later a spokesperson's dismissal of the significance of the incidence, the best definition of what really happened seems to have come from Argentina's cabinet chief Anibal Fernandez in his daily media conference, "the pontiff", he said, spoke with his "low tone but strong voice".
"Today there is no country in the world that recognizes UK's rights over Malvinas and what the Pope has simply done, is to ask for what has been called for in all forums, which is have (Argentina and the UK) sit to dialogue," the head of ministers said on Thursday morning.
"With his low tone but strong voice he only asked for the United Kingdom and Argentina to sit to dialogue," Fernandez assured as he questioned opposition PRO party lawmaker Laura Alonso who on Wednesday following the release of the controversial picture said in Twitter that the Pope "is wrong again."
"What this proves is a disdain, a total lack of respect toward a pastor who has 1.2 billion devoted around the world and is only saying have them dialogue again," the also Victory Front (FpV) party candidate for Buenos Aires province governor stated, adding Alonso's comments responded to her personal opinion, "someone who says nonsense by herself."
"The Pope is not just any person; when he sees things that are not right, he intervenes," the cabinet chief stressed pointing out the head of the Roman Catholic Church "has gone to Kosovo, regarding the situation in the Middle East, he talked about the need to create a Palestine State and, in what has to do with Cuba and the United States, he always pronounced himself in favor of dialogue."
"With his low tone but his voice very strong, what he has done is to express the need for dialogue and that is a very important fact by itself"
On Wednesday following the picture incident, Father Ciro Benedettini, who has been identified as a spokesperson for Francis said "the Holy Father did not even realize he had this object in his hands. He has discovered this just now after seeing the photograph".
He added that "the picture was taken during the general audience when many people give items to the Holy Father".