Pro-Rousseff march turnout no match for Sunday's antigovernment protest
Friday, August 21st 2015 - 07:27 UTC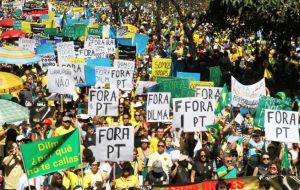 Brazil unions and left groups staged a string of protests in a show of support for President Dilma Rousseff, although turnout was markedly lower than at massive anti-government rallies over the weekend. The protests hit back at the growing push to impeach Rousseff, who less than a year into her second term is struggling for political survival.

According to organizers, some 172,000 people turned out around the country in more than two dozen cities. However, political parties in Brazil frequently exaggerate turnout. A partial police estimate, which did not include figures for Rio de Janeiro, was 72,000, including 40,000 in Sao Paulo, the country's biggest city.

Whatever the real number, the mid-week demonstrations were clearly unable to match the heft of protests on Sunday blaming Rousseff for Brazil's recession and runaway corruption -- and demanding her ouster.

According to conservative estimates, almost a million took to the streets Sunday, the third mass anti-Rousseff protest in six months.

Rousseff not only faces bitter opposition from the right but disillusion from the left over economic austerity measures enacted to try and fix the failing economy. Her popularity ratings are in the single digits.

That weakness has left her vulnerable in the capital Brasilia, where she faces threats of impeachment proceedings, even if analysts say the grounds for impeachment are far from clear.

Rousseff describes the threats as "coup plotting" -- a loaded term in a country that only ended two decades of military dictatorship in 1985.

Last week, Rousseff sought to build political bridges by agreeing with the Senate leader to a new set of market-friendly reforms, even if this took her still further from her socialist roots.

She also got a boost on Thursday when prosecutors filed corruption charges against the lynchpin in the impeachment camp, House speaker Eduardo Cunha.

But the poor enthusiasm of the demonstration numbers is evidence of the fatal damage to her electoral base by shifting to conservative austerity policies.