Rousseff admits a year of recession because of 'massive economic difficulties"
Friday, August 21st 2015 - 07:41 UTC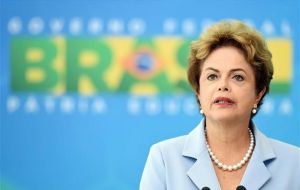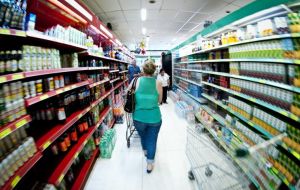 A slump in commodity markets will burden the global economy for some time to come, Brazilian President Dilma Rousseff told Germany's Handelsblatt business daily, adding she hoped the Brazilian economy would pick up in a year.
Fears that growth in China, which carried the global economy following the 2008 financial crisis, is slowing over the long term are affecting riskier assets around the world, with commodities and emerging markets among the hardest hit.
"The process of falling commodity prices due to the adjustment in China will continue to burden the global economy for a long time," Rousseff told Handelsblatt.
"The current crises in emerging economies will have their effects on the global economy," she added.
Turning to Brazil, where Rousseff is trying to reduce a gaping fiscal deficit and restore confidence in her government's accounts, she said her country was facing "massive economic difficulties".
Rousseff expected a recession in Brazil for the next six to 12 months and hoped signs of an improvement would then take hold.
Foreign and local companies alike have complained for decades about the difficulty of doing business in Brazil, which tends to combine miles of red tape with slow-moving bureaucratic agencies.
Rousseff said the country was working on a rule that would grant automatic approval for applications that are not decided upon within a certain timeframe. The rule would be a potential boon for companies looking to build factories or infrastructure projects, which often face numerous delays for permits and other approvals.