INIDEP to build a research branch in Santa Cruz province
Wednesday, August 26th 2015 - 06:21 UTC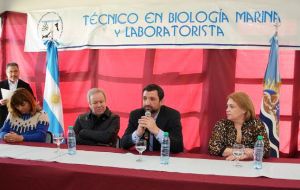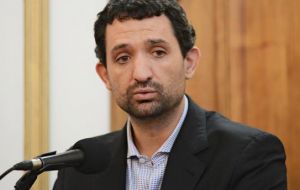 Argentina's Fisheries Research and Development Institute, INIDEP will set up a branch in Caleta Oliva, Santa Cruz province, which is to be financed with matching funds from the Inter American Development bank and the Argentine government.
The agreement for building a research and labs' center was signed at Caleta Oliva's Marine Biology and Laboratory School, with the participation of authorities and public in general who shared a video on INIDEP's plans to extend its offices and research centers to other Patagonian provinces.
The ceremony included Santa Cruz governor Daniel Peralta, members of his ministerial cabinet and Raul Reta in representation of INIDEP.
Santa Cruz Home secretary Harold Bark described the decision as "very positive" because it will help "scientific development and research in the San Jorge Gulf area and will support students from the local Marine Biology School".
Under the agreement terms INIDEP will build the regional branch, a 700 sq meters construction in a 2.100 sq meters plot which was leased by the city's government. The building will lodge standing and visiting scientists and experts.
Since Santa Cruz province is a member of the Argentine Federal Fisheries Council it needs scientific data support which is to be provided by the INIDEP local branch.