Shell given a foothold at Argentina's vast shale resources in Neuquén
Wednesday, August 26th 2015 - 06:00 UTC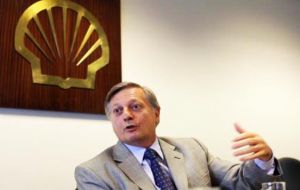 Anglo-Dutch energy giant Shell made a stride forward in its push for part of Argentina's nascent shale oil pie after the Neuquen province government gave it the rights to exploit two unconventional oil areas in the much-coveted Vaca Muerta region for the next 35 years.
While Shell is far from the first foreign company to land an investment deal in the area, the news is significant as it comes following years of repeated clashes between Shell and the national government over economic policy.
The company promptly announced the news on a press release, confirming what a provincial decree had ruled shortly before. Shell said it includes a pilot plan to study the area in order to fine-tune drilling and processing decisions.
The two areas leased to shell are the Sierras Blancas and Cruz de Lorena blocs, 325 square kilometers overall. The company said it will invest US$250 million in these areas.
While the deal had been discussed since late 2014, it came only a month after Shell Argentina's former CEO Juan José Aranguren stepped down from his position.
Aranguren, who led Shell Argentina for 12 years, had a tense relationship with the government and was even rumored to be supporting the opposition PRO party's Mauricio Macri's presidential bid.
He had said that he saw Macri as the best candidate in the upcoming elections, stating in December that "between Macri, Massa and Scioli I choose Macri." His favor for Elisa Carrio, also part of Macri's coalition for the elections, was also well known.
Aranguren was not shy either about criticizing public policies with which he disagreed, remaining a critic of the government since its early clashes with Shell during Néstor Kirchner's presidency over retail fuel prices up to the aftermath of YPF's nationalization in 2012, which he said unfairly favored the state-controlled company over the private sector.