Barcelona targets home rental websites to crack on 'uncontrolled' tourism
Thursday, August 27th 2015 - 05:04 UTC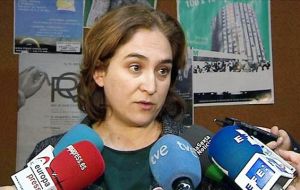 Barcelona's new mayor is picking a fight with home rental websites as she tries to crack down on uncontrolled tourism that she fears could drive out poor residents and spoil the Catalan capital's charm. Ada Colau is threatening to fine firms like Airbnb and Booking.com if they market apartments from tourists without a number showing that they are on the Catalan tourism register.
Colau, a left-wing former housing activist elected in May, also wants rental websites to hand over information on the property owners. "Everybody must comply with the same game rules," Colau told media in Barcelona's city hall.
"An internet platform cannot become a means to thwart the regulations and to shelter illegal tourist apartments. In that case we do have to intervene very forcefully."
Colau, who headed a coalition backed by Spanish anti-austerity party Podemos, is one of a new breed of local politicians who have come to power amid a backlash against traditional parties.
The dispute with rental websites is an example of the friction created by the new online "sharing economy", ranging from San Francisco and Santa Monica restricting short-term home rentals to court injunctions that have hit online taxi service Uber in a number of countries.
San Francisco-based Airbnb, which matches people wishing to rent out their homes or rooms to temporary guests, has been one of the fastest-growing start-ups of recent years and is valued at more than $20 billion.
Airbnb, which has around 18,600 listings in Barcelona, its third highest number in Europe, said property owners could add the tourism registry number to their listing and said its users must comply with local rules. An Airbnb spokesman, asked if it would hand over owners' information to city hall, said it would not do so voluntarily.
Booking.com, operated by Priceline Group Inc, said it had "stringent measures in place" to make sure all its properties around the world complied with local laws.
Since hosting the Olympic Games in 1992, Barcelona has seen a stratospheric increase in tourists, ranging from weekend parties to cruise ship visitors to culture vultures on the trail of Picasso paintings or the buildings of Gaudi.
Tourism provides nearly 400,000 jobs in Catalonia, 13% of the total, and it makes up 12% of Barcelona's economic output.
But with 27 million visitors descending on the city of 1.6 million last year, the procession of tourists flowing down Las Ramblas, Barcelona's most famous street, through the old town and the port lined with luxury yachts is becoming too much for some local people.
Residents of La Barceloneta, a working-class neighborhood next to the beach, hold regular demonstrations to protest against the growing pressure from tourism and tourists' bad behavior, which they say includes drunkenness, urinating in the streets and partying until the small hours.
One target of their anger is the sharp increase in people letting out rooms or apartments using web sites such as Airbnb.