Scioli-Macri the most probable run-off in Argentina's presidential race
Thursday, August 27th 2015 - 05:23 UTC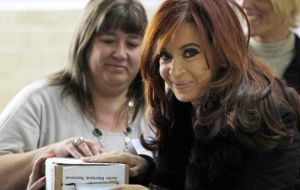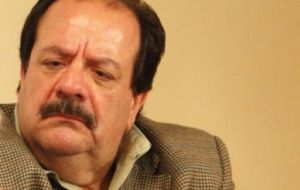 The scenario of a runoff in Argentina's coming presidential election next October 'remains' strong, according to public opinion analyst Jorge Giacobbe. The two candidates who are expected to dispute a second round in November are the incumbent Daniel Scioli and conservative Mauricio Macri.
"Until a week ago, Scioli was up 2 points and Macri also 2 points. The difference remains, both are growing evenly", explained Giacobbe. "Which means that with the current percentages today we have a strong scenario of a runoff in November".
Argentines will be voting for president, lawmakers and councilors, next October 25, but if no presidential hopeful obtains 45% of ballots or 40% plus a ten-point difference over his runner up, the two most voted will again meet a month later.
President Cristina Fernandez steps down after two consecutive four-year terms on 10 December.
However Giacobbe pointed out that the campaign has become 'intense and ferocious' and this could mean changes in the people's mood. "One thing is for people to vote quietly, undisturbed and another, in a volatile, fearful, nervous atmosphere. Results won't be the same".
Likewise the consultant revealed that for the time being they have stopped surveys because of the recent very serious incidents and claims in the Tucuman province governor Sunday election, and because "of the international situation, which has people nervous. You can see it in the streets".
"What is happening in Tucuman is not a small issue, it involves the whole of Argentina and shadows suspicions on the whole electoral system. The first commandment of our science is do not poll people when they are mad. We will wait", said the analyst.
In the Tucuman election there have been claims of disappeared ballots and burnt ballot-boxes, incomplete registries, suspension of vote counting, protests and rioting in the streets, with mounted police attacking protestors with rubber bullets, and infantry gassing.
The winner allegedly is Juan Manzur, a former Healthcare minister in Cristina Fernandez cabinet, not much loved in his province but apparently had a fourteen point difference (until the counting was stopped) over his immediate competitor Julio Cano, who according to previous opinion polls had 'tight' but chances of becoming the next governor.
However Raul Aragon another political consultant and pollster said "it would be very difficult for Scioli not to be the next (Argentine) president" despite all the recent incidents. "Scioli is close to 40% and Macri, 30%".
Furthermore the third contender, Sergio Massa, who seems to have revived, his followers are mostly Peronists and most probably in a runoff would flock to Scioli, rather than Macri.
"In a Scioli/Macri ballotage the Massa votes will split but the majority will migrate to Scioli. In a scenario with Scioli and Massa, Macri's voters would also divide but most probably will join Massa who represents the opposition to Kirchnerism. I believe the third contender (Massa) has good chances of winning a runoff, if he makes it", pointed out Aragon.
But Scioli has the best chances because although he's the incumbent, "he is not limited by the Kirchnerite ceiling. He's not seen as 100% pure 'K'" outside the bunker.