Spain confident its Gibraltar tough policy is 'bearing fruit' and will continue
Thursday, August 27th 2015 - 04:53 UTC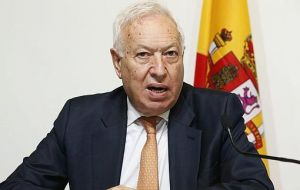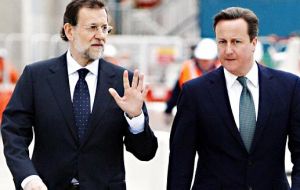 The Spanish Government's measures toward Gibraltar are 'bearing fruit, Spain's Foreign Minister Jose Manuel García-Margallo said in a weekend interview in which he vowed to maintain pressure on the Rock. Although the minister's tough language on Gibraltar was nothing new, it was the second time within the space of a week that he had spoken out on the Rock.
García-Margallo was asked by journalists from ABC newspaper whether 'the party was really over for Gibraltar', a reference to a statement he made two years when Spain stepped up its pressure on Gibraltar.
"We have taken measures that are bearing fruit and we are going to continue doing so," he replied. "There will be no playtime while this government is in office".
The Spanish minister said Gibraltar "is doing surprisingly well" economically, even though it was a small territory with no natural resources. He noted that the Rock's 30,000 inhabitants had the world's third highest per capita income.
"It's all very well if [that economic performance] is because they work very hard and they do very well," he added. "But it's bad if this is built on the foundation of practices that go against Spanish interests and the interests of the region".
García-Margallo said relations between the UK and Spain were very important, adding that as EU and NATO partners the two countries shared common values and principles.
But he added that "otra cosa es que hagamos el primo", meaning Spain would not be taken for a ride because of its close relationship with the UK. He was responding to a question on whether the spat over Gibraltar had stopped a royal visit by the Spain's King Felipe to the UK.
The minister acknowledged that this had occurred in the past but added that this was not currently the case.
While each government defended its position on Gibraltar, "…this should not muddy relations between Madrid and London," he told ABC newspaper.
García-Margallo was also asked what he thought of Gibraltar Chief Minister Fabian Picardo. "I have not spoken to him nor had correspondence with him," he told ABC.
"He says some pretty strange things and acts more on electoral criteria than what is good for Gibraltar", concluded García-Margallo.