Brazil/EU summit next year following exchange of proposals with Mercosur
Friday, August 28th 2015 - 07:22 UTC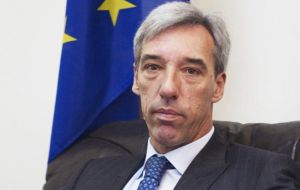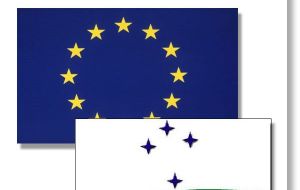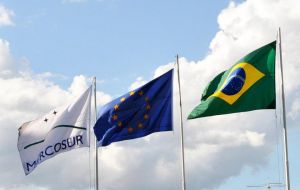 Brazil and the European Union agreed to hold their annual summit during the first half of 2016, following the exchange of proposals for a wide ranging and cooperation trade agreement between the EU and Mercosur.
The exchange of proposals for the EU/Mercosur accord that have been around since 1999 should take place in November, and Brazil and the EU agreed it would be better that the bilateral summit be held after such event, according to the EU new representative in Brazil, Portugal's Joao Gomes Cravinho.
"It is of significant importance'" for the EU to reach a trade agreement with Mercosur and it would be a 'historic mistake' not to proceed along that path particularly when all sorts of new trade alliances are being implemented worldwide.
"Mercosur and the EU are going through a positive situation to advance in the negotiations particularly since there is the conviction that the obstacles that have persisted, can be overcome" said the EU official.
As to the proposals to be exchanged before the end of the year, Gomes Cravinho said that what is most important is that they are, from both sides, 'really ambitious' so that can transmit confidence.
"Proposals that are modestly ambitious will be of limited interest, but if on the contrary they would reinforce the conviction that there really is a political decision to advance in the negotiations", said Gomes Cravinho.
As to the current situation of Brazil, with the economy in recession and in the midst of a very serious political scenario because of the corruption scandals under investigation, mainly Petrobras, the Portuguese EU official was positive.
"Brazil has great potential and this must be underlined particularly in these moments of great turbulence".
Gomes Cravinho said that only a few years ago there was "an excessive optimism regarding Brazil and now it seems we are facing an extreme pessimism, but neither positions are really justified".
He supported his statement by saying that EU is 'betting strongly in Brazil's future', with investments last year of almost 40bn dollars, "which was 54% of the foreign direct investment in the country".
"They are very significant investments from European companies, which means the EU believe in the future of Brazil", concluded Gomes Cravinho.