Brazil Central bank survey says economy will shrink 2.26% this year and 0.40% next year
Tuesday, September 1st 2015 - 07:08 UTC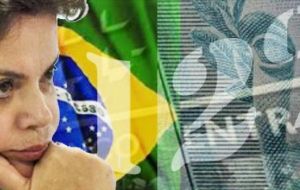 Analysts expect Brazil's economy to contract by 2.26% this year, reflecting greater pessimism in the wake of the release of figures last week showing that the country is in a recession, the Central Bank said Monday.
The gross domestic product (GDP) estimates come from the Boletin Focus, a weekly Central Bank survey of analysts from about 100 private financial institutions on the state of the national economy.
Until a week ago, analysts expected Brazil's GDP to contract by 2.06%.
The more negative estimates follow the government's release last Friday of a report showing that the GDP contracted 1.9% in the second quarter on top of a decline of 0.70% in the first quarter, meeting the technical definition of a recession.
Economists define a recession as six consecutive months of negative GDP.
Analysts now expect Brazil's economy to contract by 0.40% in 2016, while they were forecasting a contraction of just 0.24% for next year in the prior weekly survey.
Analysts trimmed their inflation outlook for this year slightly from 9.29 percent last week to 9.28 percent in the latest survey. Brazil's benchmark interest rate will hold steady at 14.25% this year, analysts said.