Malvinas 1981: Argentina threatens to withdraw air link and fuel if there are no 'realistic' negotiations
Thursday, September 3rd 2015 - 21:37 UTC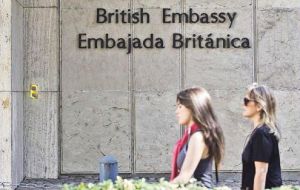 Penguin News in its latest edition in a special section, "A stroll down memory lane", remembers events of 34 years ago, that is August 1981. And in effect then as now, Argentina calls for more talks, yet again, over the sovereignty of the Falkland Islands and emphasizes impatience at the lack of actual progress made.
A note handed to the British Ambassador in Buenos Aires strongly implies that the continuation of LADE air service and YPF fuel to the Islands from Argentina (part of the 1971/72 accord) could come under threat if progress was not made in negotiations.
However, points out the Penguin News, many in the Falklands do not believe the paragraph in the statement which suggests "the Islanders' wishes would come into consideration as any reference to self-determination is omitted from all other official statements".
Therefore the Islanders remain reluctant to continue such negotiations with Argentina, especially when the Foreign Ministry declares that no "realistic" talks could take place until the country's right of sovereignty over the (Falkland) Islands is recognized.
The British and Falklands Governments aim to avoid any talks until after the general election which will take place here in September and October (actually October first) but it seems that if these negotiations fail, the Falklands' may suffer a loss of some vital services.
In related news the Royal Marines look forward to the construction of new army barracks planned for September 1982. The current barracks at Moody Brook, which have fallen into some disrepair, will be replaced by buildings which have been prefabricated in the UK and will be erected near the airport road, slightly to the east of town. The area has been leased to the Ministry of Defense for a period of 99 years.
Likewise in 1981 Falkland Islanders expressed concern over the introduction of new legislation in Britain which could severely restrict the number of people who have the automatic right of abode in the UK.
It has been proposed that only people in the colonies, who have a parent or grandparent born in the UK, will be allowed to live and work in the country. Despite the Thatcher government previously stating that no colonies would be exempt from this standpoint it appears the residents of Gibraltar will be. It is believed that this is because of Gibraltar's position in the European Economic Community which allows them to enter any country inside the organization without restriction.
For the Falkland Islanders the move indicates the lack of support Britain has for the Islands' interests and so a petition is circulated which demands the granting of full British Citizenship to Falkland Islanders. The petition will be handed to the Prime Minister on September 28, by a representative of the Falkland Islands Government Office in London. (PN).-