Trump pledges not to run as independent candidate; tells Jeb Bush to speak in English
Saturday, September 5th 2015 - 07:19 UTC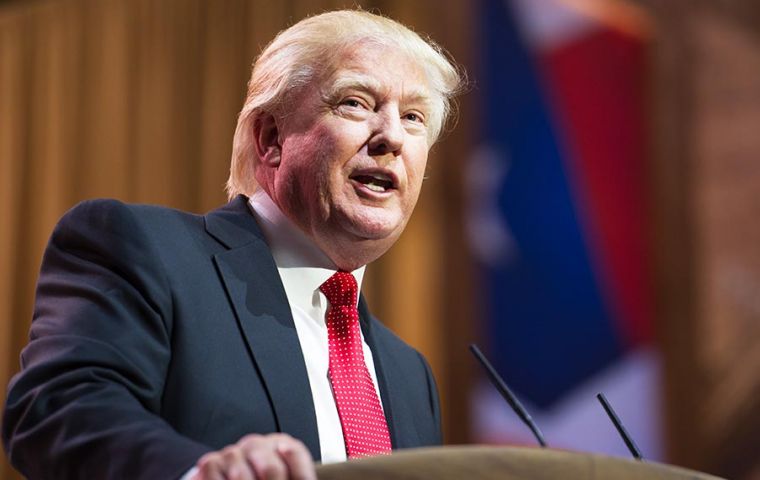 Republican front-runner Donald Trump has bowed to pressure from the party establishment and signed a pledge not to run as an independent candidate in the November 2016 presidential election.
His vow of loyalty was something of a victory for the Republican National Committee in its efforts to rein in the billionaire, who leads opinion polls while at the same time upsetting mainstream Republicans with his brash style.
But the pledge does not appear to be legally binding and does nothing to halt Trump's personal attacks against Republican rivals and stinging rhetoric on issues like immigration that have shaken up the race for the nomination.
At a news conference in his own Trump Tower in Manhattan, the property magnate waved a document that he said was the loyalty pledge in the air for TV cameras.
"I see no circumstances under which I would tear up that pledge," he said.
Trump had previously refused to rule out a third-party bid, drawing boos from the crowd in Ohio last month at the first full Republican debate.
An independent Trump candidacy could split support for the Republican Party and give the Democrats a huge boost by taking many blue-collar male Republican voters with him. He said he received "absolutely nothing other than the assurance that I would be treated fairly" in return for signing the pledge.
The reality TV star had come under intense pressure in recent weeks from the RNC and its chairman, Reince Priebus, who met with him. "It reflects a lot of behind the scenes work," an RNC official said.
Meanwhile the Republican presidential contenders continued their weeks-long feud as Trump responded to Jeb Bush's recent bilingual attacks on his conservative bona fides by suggesting that the former Florida governor should stick to one language.
"I like Jeb," Trump said in an interview with Breitabart News. "He's a nice man. But he should really set the example by speaking English while in the United States."
With that, Trump may have sparked yet another debate about whether or not to make English the official language of the United States. There is no official U.S. language, but lawmakers in both parties have tried in vain to make English official for years.
Trump's comments came after Bush attacked his rival in English and Spanish earlier in the week. Bush's wife, Columba, was born in Mexico and they predominantly speak Spanish in their Miami home.
"He attacks me every day. He attacks me every day with barbarities," Bush said in Spanish, using a word that loosely translated means "harsh insults."
"He's not conservative. He doesn't have a career that you could say is conservative," Bush said later in Spanish. "And beyond that, he personalizes everything. If you're not totally in agreement with him, you're an idiot, or stupid, or you don't have energy or 'blah blah blah.' That's what he does. That doesn't work -- there are millions of people who today are thinking that their future isn't the way it should be."
In his Breitbart interview, Trump defended his Republican credentials: "You know, Ronald Reagan wasn't a conservative. He became a great conservative. By the time I'm finished, people will say I'm a great conservative. By the time I'm finished with the presidency, after eight years of the presidency, people will say I'm a great conservative—far greater than Jeb would ever have the ability to be."
In response, top Bush campaign aides fired back, suggesting that Trump's comments about English put him on a "one man mission" to kill the Republican Party.