HMS Endurance up for sale; she never recovered from the 2008 accident
Monday, September 7th 2015 - 08:52 UTC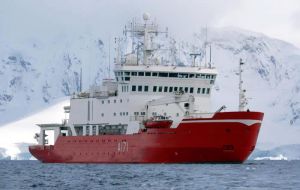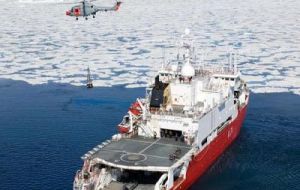 The Royal Navy has put its Ice Patrol ship, HMS Endurance, up for sale. The icebreaker served as the Royal Navy ice patrol ship between 1991 and 2008 before an accident during routine maintenance destroyed a large part of her equipment.
Built in Norway as MV Polar Circle, she was chartered by the Royal Navy in 1991 as HMS Polar Circle, before being purchased outright and renamed HMS Endurance in 1992.
She has been out of service since 2008, when she was seriously damaged by flooding in the south of Chile following an error during routine maintenance on a sea suction strainer that nearly sank the ship.
Helped by the Chilean navy the damaged vessel was first towed to Punta Arenas and then the Falkland Islands where she was later put on a special float and towed back to England. On 8 April 2009 Endurance arrived off Portsmouth on the semi-submersible transporter ship MV Target
Viewings of the vessel are due to take place late September early October but only parties that have a valid Pre-qualification questionnaire will be invited to tender for the vessel and attend viewings. The vessel is moored at Portsmouth and will be sold from there.
The ship, originally slated for scrapping is now being sold for Further Use or Recycling.
Parties interested in acquiring the vessel for Future Use, should note it will require considerable investment.
HMS Endurance replaced the Icebreaker of the same name that served in the Falklands war of 1982. The proposal to withdraw that ship is said to have been a major factor in the Argentine junta's decision to invade the Falklands.
In July 2007 the United Kingdom offered Endurance to supply Argentine Antarctic bases after their ARA Almirante Irizar icebreaker suffered extensive damage in a fire.
The current HMS Endurance has been replaced by HMS Protector.