Business lobbies feeling the pinch, impatient with Rousseff's budget cuts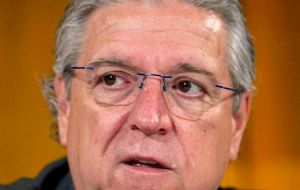 After months of trying to shore up Brazil's public finances, President Dilma Rousseff now faces political and business pressure to ease up on painful austerity measures in a country long hooked on the helping hand of a big state.
Business leaders have supported the beleaguered Rousseff as she faces growing calls from political foes for her resignation, but some are growing impatient with austerity policies that are beginning to bite into their profits.
"The government's focus is completely wrong. It should be cutting its own payroll instead of investments that boost the economy," said Jose Carlos Martins, the head of Brazil's construction industry lobby.
Cutbacks in public infrastructure programs are expected to cost the construction industry 500,000 jobs this year, or about a sixth of its total workforce, he said.
Rousseff's leftist Workers' Party and labor unions are calling on corporate Brazil to shoulder some of the burden before belt-tightening squeezes social programs that lifted millions from poverty.
"It was easy to give businesses indecent tax breaks. Now they don't want to start paying again," said Workers' Party Senator Paolo Paim, a steelworker turned politician. "We must get real and get tough on tax collection."
Manufacturing companies complain their payroll tax bill will double in some cases after the government recently rolled back tax breaks and reduced a refund of taxes on exported goods.
"The higher taxes have reduced the money circulating in the economy and consumers are buying less," said Marcio Utsch, chief executive of shoemaker Alpargatas SA, the manufacturer of Havaianas flip-flops.
The head of Sao Paulo's powerful Industrial Confederation, Paulo Skaf, has warned that Finance Minister Joaquim Levy's fiscal adjustment is destroying jobs.
"If the finance minister can't fix the Brazilian economy without raising taxes, he should pack his bags and go," Skaf said when Levy recently proposed reinstating a financial transactions tax. "If he continues like this, he will become the minister of unemployment."
To ease the backlash, Rousseff has already started to loosen the purse strings. Last month, she ordered state-run lenders to offer 8 billion Brazilian reais ($2.1 billion) in cheap credit lines to Brazil's struggling auto sector.
On Friday, Rousseff promised to make no further cuts to social welfare programs and said she will maintain plans to expand low-cost housing by 3 million units through 2018.