Prince Ali Bin Al Hussein makes official his bid to head FIFA and slams Platini
Thursday, September 10th 2015 - 08:14 UTC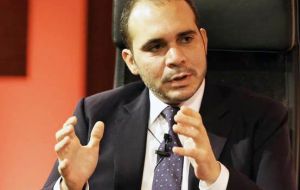 Prince Ali Bin Al Hussein of Jordan wastes no time in slamming Michel Platini as he announces his bid to succeed Sepp Blatter as head of world football's governing body. After hinting at a second run for the FIFA presidency at the Soccerex Global Convention in Manchester on Monday, the Jordanian officially launched his campaign on Wednesday in Amman.
Despite losing the May FIFA presidential election to Blatter - who won 133 votes to Ali's 73 - the former FIFA vice president's appetite to seize the top job in world football is undiminished.
After criticising UEFA president Michel Platini at Soccerex, Ali took another dig at the Frenchman, who had supported the 39-year-old in his battle with Blatter in May but is now one of a few other potential candidates vying for the FIFA presidency. South Korean Chung Mong-joon, who Ali ousted as Asia's FIFA vice president in 2011, is also mounting a bid for the top job in world football.
"I want to finish what we started," Ali said in his announcement speech.
"Ten months ago, I was the only person who dared to challenge Mr. Blatter for the presidency of FIFA. I ran because I believe that FIFA needs change. And I had the courage to fight for change when others were afraid," he said, an apparent reference to Platini ducking the opportunity to take on Blatter last August.
In his strongest remarks about Platini to date, he said he conceded that election "not because I was not the best candidate, but because others were using me to make room for themselves.
"They didn't have the guts to run, but I did. Ever since president Blatter promised his resignation just a few days later, they have been scrambling to secure the job for themselves."
"I didn't stand for election the first time to make way for others. This election should be about football and not personal ambition. I believe in the road we started. I believe in the moments I shared with people all over the world, who told me their hopes and dreams.
"I will not be a pawn for others. I cannot leave the field that I have cleared, only to allow a flawed system to continue."
An outspoken advocate of the need for FIFA to focus on international development, transparency and good governance - key tenets of his previous presidential campaign - he described himself as a humble man who believed in football's power to affect change. Ali said he had seen how the sport was "a powerful tool to make the world a better place" in his 15 years in football.
"It is only through new leadership that FIFA can change. I do not believe that FIFA can give this sport back to the people of the world, without new leadership, untainted by the practices of the past," he said, remarking on the string of corruption scandals that have tarnished FIFA's global image.
Prince Ali said that since his failure to unseat Blatter in May, four days before the Swiss announced his resignation plan as the biggest bribery scandal engulfed FIFA, had "thought long and hard about how to reform FIFA".
"It will be a difficult task. We must overcome deep-seated corruption and political deal-making," he said. "But I was not brought up to walk away in the face of a tough fight. Nor have I been brought up to walk away from what I believe in or take the easy way out".