Malvinas war declassified documents delivered to Argentine veterans
Friday, September 11th 2015 - 06:23 UTC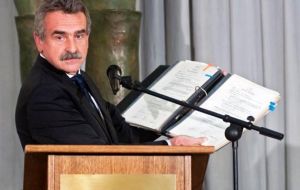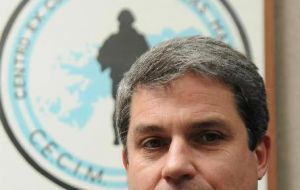 Argentina's Defense minister Austin Rossi handed Malvinas veterans a report on the 1982 South Atlantic conflict compiled from recently declassified military documents. The report handed to Ernesto Alonso, head of the Malvinas former combatants national committee was drafted by the ministry's Human Rights and International Humanitarian Law desks.
"The report and documentation is a significant contribution for the Malvinas cause, which is a cause sustained by all the Argentine people" said minister Rossi during the official ceremony at the Defense ministry headquarters.
This way the 'State is acknowledging what happened based on genuine, open information for everybody's access, which was elaborated by the (Argentine) Armed Forces during and after the conflict", pointed out Rossi who said this was the first delivery, but 'more are coming'.
Earlier this year President Cristina Fernandez signed Decree 503 which declassified all historic archives of the Armed Forces referred to the South Atlantic conflict and invasion of the Falkland Islands.
"We started to survey all the material available and on request from the Malvinas former combatants National Committee we looked for specific documents that could have some testimonies regarding the abuses of human rights committed during the conflict", said Stella Segado, head of the Human Rights desk.
"This is a historic moment for us former combatants and a contribution so that the Argentine people can finally be aware of facts and events in Malvinas during the war" said Alonso, who requested 'special thanks' be addressed to the president for the declassification decree.
"A much needed effort in support of Justice has been unveiled", underlined Alonso. He added that the documents will be of great help in the legal actions against Argentine officers who abused of their own men during the conflict.