Gibraltar: Elizabeth "our Queen by invitation and not by imposition; twice voted"
Saturday, September 12th 2015 - 10:18 UTC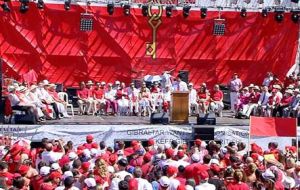 The Queen of Gibraltar and the Rock's evacuation generation were honoured on National Day Thursday by thousands of Gibraltarians who crammed into Casemates Square dressed in red and white.
Chief Minister Fabian Picardo focused much of his speech on the 75th anniversary of the evacuation of civilians from the Rock and on Queen Elizabeth II, 'our queen by invitation', who this week became the longest serving monarch of the UK and its Overseas Territories.
CM was flanked on stage by government ministers, Opposition MPs and 11 visiting UK parliamentarians as he dedicated Gibraltar National Day 2015 to the 'evacuation generation' and The Queen.
"Because you are the ones who clawed your way back home to the Rock, you are the ones who no one could keep away and you are the ones who laid the foundations for the Gibraltar that we have today," Mr. Picardo said.
The Chief Minister also singled out government minister Joe Bossano, "one of the evacuation generation" who was then to go on to start National Day.
CM Picardo drew parallels between Gibraltar's evacuees and the plight of the Syrian refugees as they arrive on the shores of Europe. "Let us remember that our people were refugees once too during the Second World War and let us see ourselves and our own peoples' journeys in the 1940's in the journeys that so many are having to embark on today," he said.
"We remember that our evacuees had to leave families and loved ones behind to survive and that is why we feel such solidarity with today's refugees as well and why as a charitable people we will do what we can in our own small way to help."
Turning to Queen Elizabeth's feat in surpassing Queen Victoria as the UK's longest serving monarch, Picardo said: "We, her people of Gibraltar, are perhaps the only ones in her reign who have chosen to remain British on two occasions".
CM Picardo said because she was Queen when Gibraltar voted by overwhelming majority to remain British in the referenda of 1967 and 2002 she has not been "imposed" on the people of Gibraltar.
"We've chosen her twice."
"So we can proudly say that she is our Queen by invitation and not imposition," he told the crowd.
Producing a letter from Buckingham Palace responding to Gibraltar's letter of congratulations, Mr. Picardo proudly told the crowd: "If she ever was allowed to come to Gibraltar she would be more welcome here than she has been anywhere else in the world."