Argentine opposition lawmakers to demand 'transparency' from the Electoral Court
Monday, September 14th 2015 - 09:49 UTC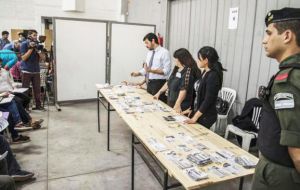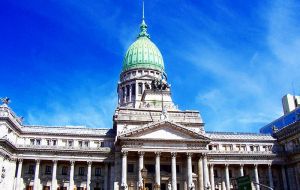 Argentine lawmakers from several opposition Lower House caucuses will appear on Monday before the National Electoral Court to present their "Inter-party agreement for Electoral Transparency", an accord to avoid irregularities in October 25 presidential and legislative polls.
While in the northern province of Tucumán, election results remains in the news due to a contentious vote for governor, currently led by the Victory Front's Juan Manzur in the final recount, opposition politicians are scheduled to meet in the afternoon with Court authorities.
PRO figures Federico Pinedo and Patricia Bullrich, Adrián Pérez of the Renewal Front, Socialist Juan Carlos Zabalza, Radical Mario Negri, Fernando Sánchez of the Civic Coalition, the GEN's Omar Duclós and Luis Lusquiños, representing Federal Commitment, will be at the encounter.
"Proposals for Electoral Transparency 2015" was presented in document form last week during a press conference in the Argentine Congress, according to a statement released by UCR caucus chief Negri.
Among the measures demanded by the opposition for the general elections is the mandatory restocking of ballots for each and every political space; the replacement of the telegrams sent by the Post Office by a Count Record; and the presence of party observers "in every vote collection centre of the Post Office."
The controversial results in the province of Tucuman where ballot boxes disappeared and so did monitoring cameras, plus other irregularity claims in the Bariloche mayor elections in Patagonia, have increased demands for electoral reform in Argentina.
Next October 25 Argentines will be voting for the successor of president Cristina Fernandez, plus half the Lower House, a third of the Senate, several provincial governorships and councilors all across the country. The winner of the presidential race needs 45% of valid ballots or 40% plus a ten point difference over the runner up. If this is not the case a runoff between the two most voted candidates takes place on 22 November and on 10 December the successor of Cristina Fernandez takes office.