Poverty and malnutrition back on the Argentine presidential campaign debate
Monday, September 14th 2015 - 10:02 UTC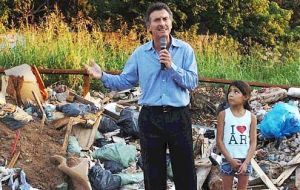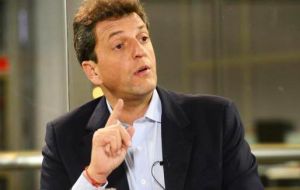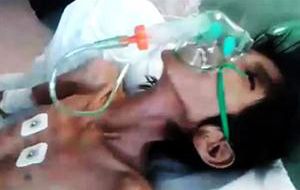 Poverty and malnutrition are back on the Argentine presidential campaign debate as a consequence of the death of a 14-year old boy from an indigenous community which shocked Argentine public opinion.

'Let's Change' opposition presidential candidate Mauricio Macri unveiled his plans if he manages to defeat ruling Victory Front (FpV) contender Daniel Scioli in the October elections, putting the reduction of poverty as one of his main interests.

"It is unacceptable to have 14 million of people living in poverty conditions when the country has all the resources to create job opportunities," said the leader of the centre-right party PRO who defeated his allies of the Radical Party (UCR) and the Civic Coalition in the August primaries winning the presidential nomination.

Seeking to appear as another opposition alternative, Renewal Front leader and A New Alternative (UNA) presidential candidate Sergio Massa said that "not acknowledging poverty is perverse" in reference to Kirchnerite officials who slammed those political leaders who purportedly tried to make an 'electoral use' of the death of the Qom youth in Chaco on Tuesday.

Macri on the campaign trail mentioned the three pillars for his administration if elected: first, an end to malnutrition, fighting drug-trafficking and third to unite the whole of Argentina.

"I want all of the residents of the country to be middle-class," Macri pledged.

Macri based his estimates on reports released by the Argentine Catholic University (UCA) for poverty in the last quarter of 2014, with an upper estimate of 28.7% of the residents living in the cities. According to the private university, two million of them live in conditions of extreme poverty.

UCA's figures disagree with other reports such as the one by pro-government CTA umbrella union, which said poverty was at 17.8%.

Drug-trafficking has also been a topic that the Argentine Catholic Church brought to the political agenda in late 2013 and was also echoed by the Supreme Court.

Meanwhile Massa campaigning in San Miguel (province of Buenos Aires) and governed by Joaquin de la Torre also made reference to poverty in Argentina.

Without making an explicit reference, Massa took aim at the FpV presidential candidate. "If we want our children to have a good quality education, faith and hope is not enough."

Poverty was back on the Argentine political agenda after the NGO Nelson Mandela Research Centre (CENM) reported that 14-year-old Oscar Sanchez died on Tuesday in the pediatric hospital of the Chaco province's capital city of Resistencia due to a bout of tuberculosis and malnutrition that he had been suffering for at least a year. A shocking picture accompanied the news.

It was reported that the teenager had been transferred to the pediatric hospital from a clinic in the El Impenetrable region where he lived. He had previously been seen by doctors in the Néstor Kirchner Hospital of Villa Río Bermejito and Hospital del Bicentenario Martín Miguel de Güemes in Juan José Castelli, according to the CENM.

When he was first treated in Villa Río Bermejito last week he weighed 11 kilos, but when he was later taken to Resistencia's pediatric hospital he reportedly weighed nine kilos.

Cristina Fernandez former Cabinet chief and now Chaco Governor Jorge "Coqui" Capitanich regretted the death of the boy, but also targeted opposition leaders for reportedly making use of the case. According to Capitanich, when he took office in 2007 the poverty rate in the province was 43% and he was reportedly able to reduce it to a third.