Jeremy Corbyn and the Falkland Islands
Tuesday, September 15th 2015 - 04:51 UTC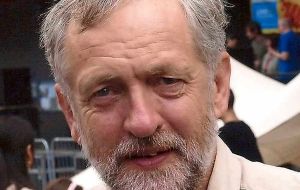 'Following the controversial election of Jeremy Corbyn as the new leader of the British Labour Party, the Daily Mail published, on Monday 15th September, the following letter which was written by Patrick Watts who was Head of Falklands Radio 1977-1999 and who was broadcasting at the time of the Argentine Invasion in April 1982.'
Given his long-standing reputation for fraternizing with the 'enemy' I'm not too surprised that Jeremy Corbyn did not have the courage: 'to answer when pressed by SKY News interviewer Adam Boulton whether he would have taken Britain into the Falklands War' (Daily Mail 04th Sept.)
He has been a long-standing and outspoken opponent of the British Government's recovery of the Islands from illegal Argentine invasion and occupation in 1982, despite the then Labor Leader Michael Foot supporting the mission.
He had the audacity to describe the dispatch of the Task Force as: 'A Tory plot to keep their money-making friends in business'.
Corbyn has frequently, and against the wishes of the inhabitants, called upon the British Government to negotiate with Argentina over the sovereignty of the Islands.
As recently as March 2013 when an Internationally recognized Referendum was held in the Falklands, Corbyn was the only British M.P. to attend a so-called Pro-dialogue Conference in London, which was no more than a propaganda exercise organized by the Argentine Embassy in an attempt to deflect the impact of an overwhelming vote of 99.8% by the Islanders to retain their British sovereignty.
At a Latin America Conference in London in 2013, Corbyn reportedly hugged and kissed his friend, the Argentine Ambassador Alicia Castro, as she delivered her usual tirade of incorrect historical facts (there was NO Argentine population expelled in 1833) and aggressive rhetoric against the British Government's commitment of non-negotiation over the Islands.
It is strange that this man, who purports to be a strong supporter of Human Rights, appears to steadfastly ignore the desire and rights of the Falkland Islands population who wish to remain British.
Patrick J. Watts MBE
Head of Falklands Radio 1977-99
Stanley.