Interim CEO for Petrobras as Murilo Ferreira takes leave of absence and returns to Vale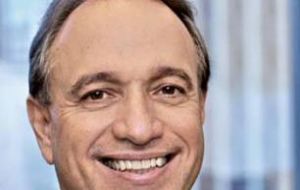 The Chairman at Petrobras, Murilo Ferreira, has taken a leave of absence from his position till November 30. It is speculated that he wants to give his entire attention towards his role as Vale SA's CEO.
Vale has been struggling recently due to a decline in commodity prices globally. With a downgrade of Brazil's sovereign bonds, the company's prospects to operate in the international arena have further dampened.
In the absence of the current chairman, the audit committee's head, Luiz Nelson Guedes de Carvalho has been named as the Board's head for an interim period. Mr. Carvalho is also an accounting professor at University of São Paulo. The company will have to face further problems in the absence of its chairman. Huge debt issue and corruption scandal has already affected its reputation.
Mr. Ferreira was hired as Petrobras' Chairman in April, as the government wished to regain and boost investors' confidence due to the corruption scandal involving billions of dollars. On the other hand, Mr. Ferreira has been the CEO at Vale for four years.
Vale SA is already going through a tough phase, and requires full attention from Mr. Ferreira. Its shares have fallen about 40% in the past 12 months to a 10-year low in August.
On the other hand, Petrobras scandal has already involved many famous politicians and wealthy individuals. This week former president Lula da Silva was also engulfed by the scandal, when the federal police requested for the approval of Brazil's Supreme Court to conduct investigations.
The leave timings raises reservations in the company's boardroom. The announcement came on the same day, when the government opted for austerity measures, delay in salary increase for officials to improve the investors' confidence, and a reduction in the budget deficit.
The sources from Vale SA said that the leave from Petrobras is for personal reasons. An equity analyst at Brasil Plural, Caio Carvalhal, stated that leave from Petrobras only and not Vale is a smart move to shy away and show discontent with the current strategy of the board. The lack of agreement on decisions was clearer in the past month when Mr. Ferreira voted against the selling of interest in Petrobras fuel distribution unit.