Barrick Gold cyanide spill in Argentine mine analyzed by UN team of experts
Monday, September 21st 2015 - 08:19 UTC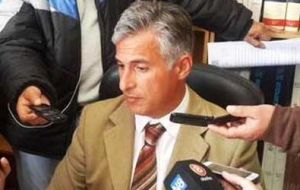 A group of United Nations experts have started to analyze water samples in the Argentine northeastern province of San Juan where a spill from a malfunctioning cyanide pipeline in a gold mine belonging to Canada's multinational Barrick Gold has caused a water emergency. The Veladero mine in San Juan is one of the largest in Argentina and apparently the spill reached the rivers Jachal, Las Taguas and Blanco.
Officials from the the United Nations Office for Project Services (UNOPS) and the United Nations Environment Program (UNEP) arrived in San Juan as part of an agreement to audit mining projects and are currently analyzing the samples. The results of will be handed over directly to the Argentine Judiciary.
The Barrick Gold Canadian multinational company admitted that at least 224,000 liters of a "cyanide solution" have been spilled and said it was waiting on laboratory results over the substance.
Judge Pablo Oritja, in charge of the investigation, is currently seeking to determine whether there was human negligence on the cyanide spill as the malfunction could have been caused due to a lack of maintenance. Oritja visited the affected area on Friday and said that Barrick's emergency plan didn't work, pointing that a floodgate that should have been closed to avoid the spill was actually open.
"The key issue here is why the emergency plan didn't work, which could have avoided the cyanide from reaching the river. The floodgate was open and we are now investigating the reasons behind that," Oritja said over the weekend.
The UN support follows an Argentine's court order of a five-day suspension of the gold leaching process at Veladero mine to determine whether there was any environmental damage from the cyanide leak.
The San Juan provincial government recommended inhabitants of three towns located near Veladero to "avoid and/or reduce their consumption of water from the [nearby] Blanco River" as a precautionary measure until further tests are conducted.
"Our focus is now on ensuring a safe and comprehensive response to this incident," said Barrick Gold in a release. The company noted it has found no evidence of contamination in surrounded rivers since Sunday (a week ago), when the leakage occurred, and that the faulty valve had already been replaced.
However, locals are up in arms for what they call "inconsistent messages" since while both Barrick and the San Juan Mining Chamber claim the spill poses no threat to the population, the provincial government has called locals to only drink bottled water until further notice.
Veladero, one of the largest gold mines in Argentina, produced 722,000 ounces of gold in 2014.