Cristina Fernandez attends Havana mass and meets with Pope Francis
Monday, September 21st 2015 - 07:38 UTC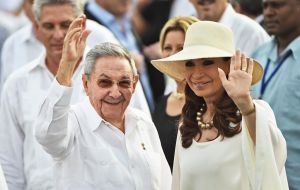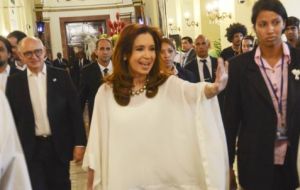 Argentine president Cristina Fernández took part in Pope Francis' Sunday's mass from Havana's Plaza de la Revolucion, as she watched the pontiff in the company of her Cuban counterpart Raul Castro. Sitting next to the Cuban president, CFK followed Francis' services as he called for society to "protect the most fragile," in a service witnessed by more than 100,000 worshippers at the Havana landmark.
Following the religious service the Pope shook hands with authorities at the event, including Cristina Fernandez. This was the seventh time the Argentine president meets with Francis and apparently there will be an eighth opportunity probably in the US or at the United Nations since both leaders are scheduled to address the General Assembly.
Argentine diplomacy also advanced that the president might again meet with the Pope, following her attendance to the last G20 meeting scheduled for November in Turkey. Apparently Cristina Fernandez will make a call at the Vatican, probably her last as Argentine president.
The Argentine leader arrived at the Cuban capital Saturday evening and was joined by a committee including Foreign minister Hector Timerman, Public Communications secretary Alfredo Scoccimarro, and Vatican and Cuba ambassadors Eduardo Valdes and Juliana Marino.
Castro and Fernandez met on Saturday and discussed the state of bilateral relations and ways of strengthening the relationship. The two leaders also discussed other topics, including integration efforts in Latin America and the Caribbean, according to Argentine sources.
The Argentine president told reporters that she supported Cuba's efforts to end the U.S. economic embargo and considered it "a great honor" to attend the Mass at the Plaza of the Revolution, calling it a "historic event."
"We'll always be with Cuba against the economic blockade, trade and financial. There is no democratic country in Latin America or the world that doesn't repudiate this U.S. policy," Cristina Fernandez said, adding that "the walls and blockades will continue to fall and when they don't fall through our efforts, they end up falling due to the weight of history."