Chile suffers 6.5 magnitude aftershock rattling Santiago buildings
Tuesday, September 22nd 2015 - 06:56 UTC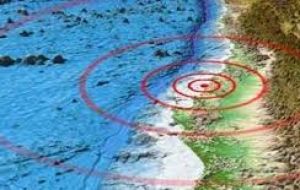 A fresh 6.5 magnitude aftershock struck central Chile on Monday, rattling buildings in Chile's capital city Santiago, but there were no immediate reports of damage or injuries. An 8.3 magnitude earthquake and a tsunami hit Chile's port city of Coquimbo last Wednesday, killing 13 people.
Since then, a series of aftershocks has unnerved Chileans. The U.S. Geological Survey said the latest tremor had a magnitude of 6.5, with an epicenter 46 kilometers west of Illapel, close to that of last week's quake.
The Onemi emergency service said Monday's tremor had not generated conditions necessary to create a tsunami and that there were no initial reports of damage or injuries.
Chile is one of the most seismically active countries in the world and strict building rules limit damage caused by quakes. There was no immediate news of any effect on copper mining, a key component of Chile's economy.
Last week's powerful tremor left more than 9,000 people homeless, officials said dramatically increasing previous estimates.
The death toll from the 8.3 magnitude quake that struck on September 16 remained at 13, with four still missing, said Deputy Interior Minister Mahmud Aleuy.
The number of people left homeless however jumped drastically from 3,500, as officials scour remote towns in the Coquimbo region, more than 260 kilometers north of Santiago, where the quake epicenter was located.
"We hope that by Friday we will have surveyed all of the people who were affected," Aleuy said.
The offshore earthquake was the sixth strongest in the history of geologically volatile Chile and the most powerful anywhere in the world this year, officials say.
Emergency personnel backed by soldiers were still busy cleaning up the coastal city of Coquimbo, which was a jumble of fishing boats, destroyed homes, vendors' stands and vehicles washed up by the tsunami waves that followed the quake.