Brazil's currency falls to its weakest level against the US dollar, 4.06 Reais
Wednesday, September 23rd 2015 - 07:05 UTC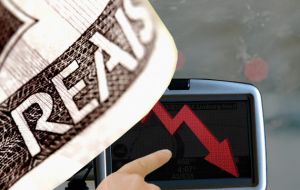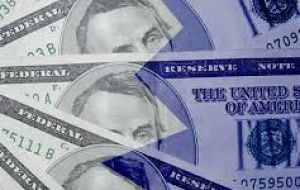 Brazil's currency fell to its weakest level ever as investors cast a wary eye on negotiations over spending bills that could further complicate the country's tenuous fiscal position. The currency, like others across Latin America, was also hammered by a global rise in the dollar sparked by increased expectations that the US Federal Reserve is still on track to raise interest rates this year.
Brazil's real fell 2% to a session low of 4.06 per dollar, breaking a major psychological barrier and surpassing the previous record low of 4.014 reached in October 2002.
The currency has weakened over 34% against the dollar this year as a sharp economic recession, lower commodities prices, expectations for higher interest rates in the United States and political turbulence at home sap investor demand for Brazilian assets.
Politics remained in focus on Tuesday, with Brazilian legislators set to vote on a series of controversial bills recently vetoed by embattled President Dilma Rousseff. In particular, investors are monitoring the possible override of Rousseff's veto on a bill that would grant an up to 78.6% pay raise for judiciary employees.
Such a spending increase would put Brazil's fiscal savings goal at risk and further increase the chances of additional sovereign credit downgrades.
In Buenos Aires City Banks and foreign exchange offices, meanwhile, the official US dollar closed half a cent up at 9.405 pesos. On Monday the Central Bank renewed controls in the foreign exchange market keeping a close watch on the American currency. By the end of the day, the BCRA had a negative balance of US$50 million.
The so called "blue" dollar rose another four cents to 15.94 pesos after climbing four cents on Monday. This was also very close to the psychological barrier of 16 Pesos.
Last week, greenbacks in the informal market gained 33 cents getting closer to its maximum peak on Thursday when they reached 15.91 pesos – on August 25, the "blue" hit 15.97 pesos, its highest.
On Tuesday also Brazil dependent Argentina's stock market slumped for a third session in a row on concerns about the Brazilian economy, after the Real reached its record low against the dollar. The Merval benchmark index shed 6% to 9,654.08 points, also pushed by a fall in commodity prices worldwide on concerns about the outlook for the Chinese economy.