Punta Arenas low-cost fares competition between Lan and Sky Airlines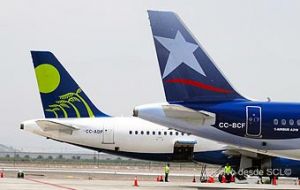 Following on Chilean low cost carrier, Sky Airlines, announcement of twelve destinations with cheap flight tickets, including the Santiago/Punta Arenas leg, Lan Chile made a similar presentation on Tuesday of a new set of promotions.
Such promotions can be checked at the Lan.cl site, but beginning October, and November, this means the round trip Punta Arenas/Santiago can be acquired as low as 65.000 Chilean Pesos plus boarding tax of 13.984 Pesos.
Sky Airlines promotion is only a one way ticket, if purchased this week, until 25 September, and in the case of Punta Arenas passengers must fly between first November and 13 December.
The Sky Airlines low cost ticket works out at prices beginning at 27.500 Chilean pesos, one way, plus the 6.992, boarding tax, which adds up to 34.492 Pesos.