Colombia and FARC put a date to end Latam's deadliest conflict, 23 March 2016
Thursday, September 24th 2015 - 08:27 UTC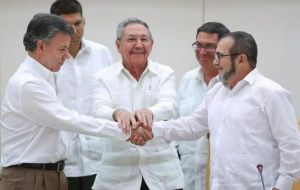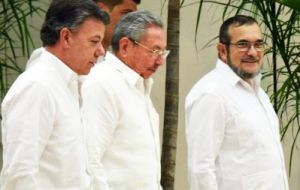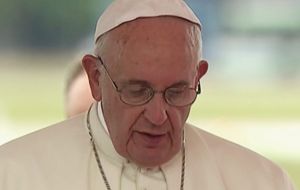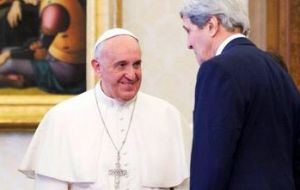 Colombian President Juan Manuel Santos and the top FARC rebel commander pledged on Wednesday to end Latin America's longest war within six months and sealed their pact with a handshake likely to stand as a lasting image.
Santos and FARC rebel leader Rodrigo Londono, better known as Timochenko, also agreed the guerrillas would lay down arms within 60 days of signing the deal, which now has an official deadline of March 23, 2016.
If successful, it would end a conflict that has killed 220,000 and displaced at least eight million since 1964.
The two sides have been in peace talks in Havana for nearly three years, but this was the first time Santos had come to Cuba and his first meeting with Timochenko.
"This will not be an easy task because there are still some difficult points to agree. But it is an instruction that we have given to our delegations, that we reach an agreement as soon as possible," Santos said told a signing ceremony.
"We won't fail. The time for peace has arrived."
Moments later, Santos and Timochenko greeted each other with a handshake. Cuban President Raul Castro, who hosted the meeting, joined his hands to theirs.
In Wednesday's breakthrough, the two sides agreed to create special tribunals to try former combatants, form an amnesty that would exclude those who committed war crimes or crimes against humanity, and provide reparations for victims.
With rebel negotiators insisting all along they would never go to jail, the deal could allow for less-harsh punishment such as house arrest or community service. Colombian media have said those convicted could be confined to open-air camps or aid in demining efforts.
"It's now up to both parties to multiply efforts to construct. It's now up to both parties to multiply efforts to construct the consensus that will bring a bilateral ceasefire, agreements about abandoning arms, and the transformation of the FARC into a legal political movement," Timochenko said. He added that the rebels were aiming for a deal even before the six months expire.
Half a century of war has embittered many Colombians who mistrust the peace talks or want harsher retribution for their enemies, but the center-right Santos staked his presidency on the peace talks. He won re-election last year against a right-wing candidate who threatened to end the talks if elected.
"The end of the conflict will be a matter of a few months. The construction of peace in our land will take years," Colombian Interior Minister Juan Fernando Cristo said on Twitter.
U.S. Secretary of State John Kerry called the breakthrough "historic progress" and telephoned Santos to congratulate him. The United States has poured billions dollars into military aid and drug-fighting efforts in Colombia, one of Washington's closest allies.
Kerry also thanked Pope Francis, currently touring the United States after visiting Cuba, for lending his support to peace this past weekend when he called on Colombia's government and guerrillas to end their "long night" of war.
"Please, we do not have the right to allow ourselves yet another failure on this path of peace and reconciliation," the Argentine pontiff said in an address at the end of a Mass he celebrated in Havana's Revolution Square on Sunday.
If finally crystallized, peace would mark a huge advance for one of Latin America's star emerging economies. It could also deal a setback to illegal narcotics trafficking. Some FARC units have formed an alliance with drug cartels, exchanging protection for money.
Previously, the government and FARC reached a partial agreement on cooperating to end the illegal drug trade, in addition to others on land reform and the legal political participation for rebels once they disarm. They also have a side agreement on removing landmines from the battlefield.
The major point left to negotiate is how demobilize rebel forces and stop the fighting, which has continued on and off throughout the peace talks. Once a comprehensive deal is reached, it would go before Colombian voters for approval.
The insurgent group of about 8,000 combatants, down from 17,000 in their heyday, is considered a terrorist group by United States and the European Union.