Falklands and South Georgia commemorative coins celebrating longest reigning sovereign in British history
Thursday, September 24th 2015 - 07:25 UTC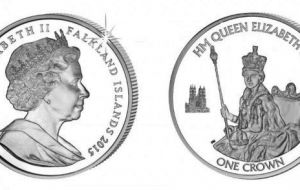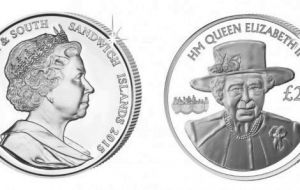 Four British overseas territories, including the Falkland Islands and South Georgia and South Sandwich Islands have issues a commemorative coin celebrating the day their head of state, Queen Elizabeth II, became the longest reigning British sovereign in history.
September 9 saw the Queen eclipse the reign of her great-great-grandmother, Queen Victoria, who reigned for a total of 63 years 216 days. On the historic day, Queen Elizabeth visited Tweedbanks Railway station in Scotland to dedicate a new rail line slated to be the longest stretch of railway built in the UK in more than a century.
Before the official dedication, the Queen acknowledged the day and its significance, commenting, "Many have also kindly noted another significance attaching to today, although it is not one to which I have ever aspired." She continued, "Inevitably, a long life can pass by many milestones, my own is no exception but I thank you all and the many others at home and overseas for your touching messages of great kindness." With these personal comments, she returned to her task, saying, "Now to the business in hand, it is my very happy duty to declare the Borders Railway open," before she unveiled the plaque bearing her name and the date.
Queen Elizabeth II, aside from being the longest-reigning English or British monarch, is also the longest married and the longest-serving female sovereign in history. Of interest to notaphilists and numismatists alike is another record achieved by the Queen when the Guinness World Records proclaimed that she also holds the world record for most currencies featuring the same individual.
The coins are issued by Ascension Island, British Virgin Islands, Falkland Islands, and South Georgia & the South Sandwich Islands. Each coin features a different design with images of the Queen at various times during her 63 years as sovereign, along with a privy mark placing the image of the Queen with its appropriate era.
The obverse of each coin features an effigy of Queen Elizabeth II by Ian Rank-Broadley, along with the relevant legends and year of issue.
The Falklands commemorative coin, Crown, is a cupronickel 28grams piece, 38,6 mm in diameter and of unlimited mintage.
A Falklands second Crown is limited to 10.000 pieces, made of .925 silver, 28 grams and 38.6mm diameter.
South Georgia has a 2 Pounds cupro-nickel, 28grams, 38,6mm and unlimited mintage, plus another 2 Pounds coin 925 silver with a limited mintage of 10.000
Each coin is produced by the Pobjoy Mint UK on behalf of each treasury and is available in Cupro Nickel (BU) and Sterling Silver (Proof). The coins are struck to the highest quality with the precious metal versions being produced with a flawless Proof finish. The design on each coin is in relief with a mirror-finish background.
For more information about these coins please visit the Web site of the Pobjoy Mint. (Courtesy of M Alexander & Coinupdate.com)