Rousseff partial victory: Congress upholds vetoes cutting additional expenses
Thursday, September 24th 2015 - 09:05 UTC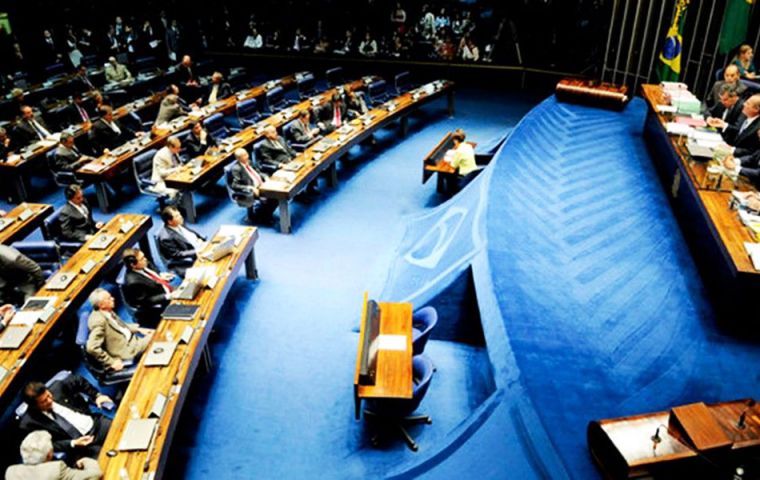 Brazil's Congress on Wednesday voted to uphold most of President Dilma Rousseff's vetoes on billions of dollars in additional expenses, marking a partial victory for the president, who is fighting a weakening economy and calls for her ouster, plus a plunging currency.
In a session that started late Tuesday and ended early Wednesday, Congress voted to retain 26 of Rousseff's 32 vetoes on spending worth 127 billion Reais ($ 31.5 billion), including salary increases for government workers, amid investors' concern that the vetoes could be overturned.
However, the congress postponed the vote on Rousseff's vetoes for salary raises for judicial system workers and regarding pension adjustments. Combined, those adjustments would generate additional spending worth 47 billion Reais through 2019, according to government estimates.
The congress didn't set an exact date to hold a new round of votes on those vetoes.
On Tuesday, Brazilian Senate President Renan Calheiros said he favored postponing the vote to make sure the government had enough support to block the new spending. But later in the day several lawmakers argued that it was necessary to vote on the vetoes Tuesday, as originally scheduled, to calm markets after the Brazilian real hit its weakest level against the dollar since its launch in 1994.
The Brazilian Real has depreciated 73% in a year and 31% in the last three months, also disrupting economies of neighboring countries.
"This is an important decision…we need to resolve this situation in the congress once and for all. Especially considering today´ s economy, Congress needs to give an answer" said Sen. Delcidio do Amaral, the government leader in the Senate.
In the beginning of September, credit rating agency Standard & Poor´s cut Brazil´s sovereign rating to junk status, citing Ms. Rousseff's difficulties in dealing with the political turmoil and growing debt. The government has since proposed new ways to cut expenses and increase revenue.
According to the local press, on Tuesday Ms. Rousseff's administration directly asked congress leaders to go ahead with the vote. A spokeswoman for the president declined to comment on the reports.
Rousseff previously vetoed the measures, which some in Brazil call "time bombs," in an effort to close Brazil´s giant budget deficit. As of July, the country was running a nominal deficit of 8.8% of GDP and a primary deficit—a measure of the government's capacity to save money and pay down debt— of 0.9% of GDP, both results the worst on record.