Venezuela admits military 'deployment exercise' along the border with Guyana
Thursday, September 24th 2015 - 08:11 UTC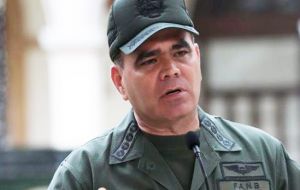 Venezuela says the deployment of its troops near the border it shares with Guyana, which triggered serious concern in Georgetown, is "an operational deployment exercise". This follows on months of diplomatic aggression and threats by the regime of Nicolas Maduro claiming two thirds of Guyana's territory.
Defense Minister Vladimir Padrino Lopez said on Tuesday that Venezuela was conducting military exercises in the eastern part of the country "because we are really preparing ourselves", according to news agencies reporting on the issue.
However Padrino Lopez did not specify exactly what the country was preparing for.
The minister's comments came after Guyana's president David Granger expressed concern that the mobilization of Venezuelan ground and naval troops and equipment was "an extraordinary escalation of Venezuelan military activity in eastern Venezuela".
The development comes amid longstanding border disputes between the South American neighbors.
Since the 19th Century, Venezuela has been laying claim to the vast mineral-rich area of jungle west of the Essequibo River, which accounts for about two thirds of Guyana's territory. Venezuela has also extended its maritime claims after a subsidiary of Exxon Mobil Corp. announced it had made a significant oil discovery about 193 kilometers off Guyana.
Against that background, Granger reacted to the deployment of Venezuela troops, saying that he felt that Venezuela "is treading a dangerous course at this point in time, and rather than seeking a peaceful resolution of the matter, Venezuela seems to be pursuing a very offensive and aggressive course".
In a statement issued later in the day, the Guyana government said it was "concerned about the unannounced and unexplained build-up of military forces close to Guyana's border and waters".
It also urged Guyanese citizens close to the border with Venezuela to be alert to this development and urged them to remain within the boundaries of Guyana.
"Guyanese are urged to only utilize legal ports of entry into and out of the Bolivarian Republic of Venezuela if they must travel to or from that neighboring state," the statement added, as it also urged Guyanese to "remain calm as the Government of Guyana continues to monitor this situation and will provide updates if and when it becomes necessary".
Guyana said it remains committed to the principle of peaceful co-existence of states, as is enshrined in the Charter of the United Nations, and would regard any act that is not consistent with that principle as a breach of international law that will result in serious consequences.