Brazil's Real recovers ground after Central bank promises to use all 'instruments available'
Friday, September 25th 2015 - 07:17 UTC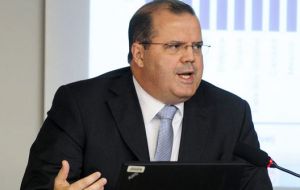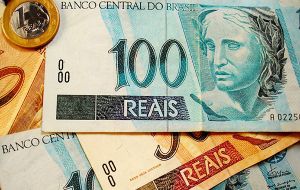 Brazil's depressed currency rebounded Thursday after the head of its central bank vowed to use all instruments in its arsenal to curtail the Real's collapse. Earlier in the day the Real tumbled to an all-time low of 4.248 to the U.S. dollar, but bounced back to 4.023 after central bank President Alexandre Tombini, in an unscheduled press briefing, did not rule out selling part of the country's $371 billion foreign reserves to calm the exchange rate market.
"In this process [to tame volatility], all instruments are available for the central bank," Tombini said. "Foreign reserves are an insurance that could and should be used."
The currency rallied further, bringing its gains for the day to 3%, after the Treasury announced a program of daily debt auctions to provide liquidity to the local debt market. But Tombini also reaffirmed the central bank's policy of keeping interest rates at current levels for a prolonged period, even as it raised its inflation forecast to well above its official target.
With investors fretting about the future of Latin America's largest economy, Brazil's main stock index, Bovespa suffered early losses of as much as 2% on Thursday but rebounded and was up 0.2% in late-afternoon trading.
A growing political crisis that threatens to unseat President Dilma Rousseff and a deepening economic recession have dragged the Brazilian real to its weakest level since the currency was created in 1994. The currency's weakness has offset the central bank's efforts to contain rising inflation through interest rate rises.
In its quarterly report released Thursday, the bank raised its 2016 inflation forecast to 5.3% from 4.8% previously.
Data released on Thursday showed that Brazil's unemployment rate rose for an eighth straight month in August to its highest point in over five years, although the increase was slightly smaller than markets expected.
The crisis has fueled concern that another credit rating agency will follow Standard & Poor's example and cut Brazil's rating to junk, forcing many global funds to dump its bonds from their portfolios.
Treasury Chief Marcelo Saintive said on Thursday that Brazil would be able to avoid further credit downgrades if it succeeded in approving its latest fiscal package and showing long-term commitment to rebalancing its public accounts.
Brazil's Senate will vote next week on whether to overturn presidential vetoes averting a surge in public spending, a major threat to Rousseff's efforts to shore up deteriorating government finances.