Guyana believes Venezuela's military display is a 'show of force', but in case send forcers to the border
Friday, September 25th 2015 - 07:09 UTC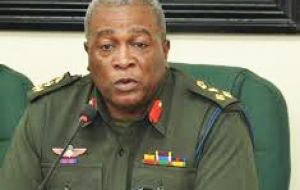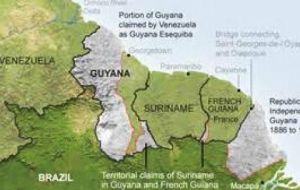 The Guyana Defence Force (GDF) says it's ready to defend the country against any act of aggression at the country's border with neighbour Venezuela. The declaration was made by the GDF's Chief-of-Staff Brigadier Mark Phillips, as Minister of State Joseph Harmon also assured that President David Granger was "on top of the situation", which he described as 'a show of force' and 'not a threat of force'.
Guyana's top military and government officials have been meeting over the past few days after noticing "overt and unusual" deployment of Venezuela's military forces in San Martín and Ankoko Island, at the border between the two countries.
Brigadier Phillips disclosed that Venezuelan missiles were collected in El Dorado and military boats with machine guns were patrolling along Guyana's Cuyuni River.
Speaking to the media, along with Harmon and Minister of Governance Raphael Trotman after the Cabinet was briefed on the situation, the military chief said the GDF was "ready and prepared to defy aggression", and troops at Eteringbang, Kaikan and several observation posts along the Cayuni River, have been briefed.
Specialized units at the GDF's Camp Stephenson at Timehri and Camp Ayangana, as well as other coastal and inland training posts, have also been placed on standby.
And Phillips said the GDF would continue to monitor all activities by the Venezuelan armed forces on Guyana's frontiers.
Venezuela's Defense Minister Vladimir Padrino Lopez, responding to Guyana's concern about the activity, said earlier this week that the military was conducting a normal operational deployment exercise.
The development comes amid longstanding border disputes between the neighbours. Venezuela has been laying claim to the vast mineral-rich area of jungle west of the Essequibo River, which accounts for about 40% of Guyana's territory. It also extended its maritime claims after a subsidiary of Exxon Mobil announced it had made a significant oil discovery about 193 kilometres off Guyana earlier this year.
However Trotman stressed that there was no cause for fear, as the move by Venezuela was more political than military. He insisted that there was no immediate "threat or use of force" by Venezuela, only a "show of force".