Maduro calls for dialogue with Guyana but insists on its claim over Essequibo
Friday, September 25th 2015 - 07:02 UTC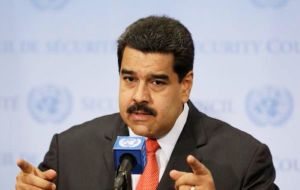 Venezuela's President Nicolás Maduro says he wants to have a discussion with his Guyanese counterpart to find a way to settle the conflicts between the two countries. He made a call for a meeting to be held on the sidelines of the upcoming United Nations General Assembly in New York, during his 'Contact with Maduro' program, according to the statement on the website of the Venezuelan Foreign Ministry.
Maduro's invitation comes amidst Guyana's expression of concerns, following Venezuela's increased military presence on the border it shares with Guyana. The two countries are at odds over the the vast mineral-rich area of jungle west of the Essequibo River, which accounts for about 40% of Guyana's territory, as well as their maritime boundaries.
The Ministry of Foreign Affairs in Venezuela says Maduro has "extended a call to the President of Guyana David Granger to facilitate a meeting in which they can find "a positive way to clear obstacles in relations between the two governments".
"We love and respect the people of the Cooperative Republic of Guyana," Maduro said. "Venezuela has been the country that has most helped Guyana in its history, since it was the site of British Guiana."
Maduro said he hopes the discussion can take place and result in steps to "regularize relations" between the two countries. At the same time, the Venezuelan leader made it clear that his country does have a legitimate claim to Guyana's Essequibo region and would continue to go after that.
"I aspire, hope and fight for Venezuela to recover its Guyana Essequibo, in peace," Maduro said.
"Venezuela has the legal and historical reason to make the claim for Guyana's Essequibo, and that only through international law and the Geneva Accord can it finally resolve this situation."