Falklands' oil companies agree to resume drilling at successful Sea Lion prospect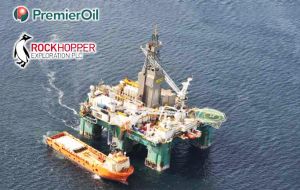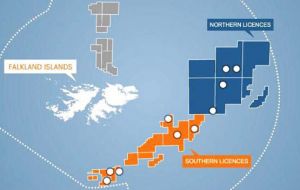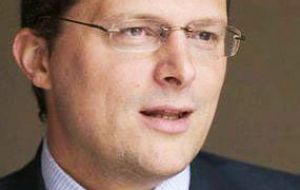 Falkland Oil and Gas PLC on Friday announced it has agreed with Rockhopper Exploration PLC and Premier Oil PLC to drill another well on the Isobel/Elaine complex to replace the planned Jayne East well.
The companies are working together offshore the Falkland Islands in the Sea Lion project and plan to recommence exploration drilling in the North Falkland basin in late September, early October.
Premier Oil is the operator of the project with a 36% stake, with Falkland Oil and Gas holding a 40% stake and Rockhopper Exploration holding the balance.
The companies had planned on drilling the Jayne East well, but on Friday, the companies said they will now drill another well on the Isobel/Elaine complex instead.
As a result of the change, the farm-out agreement for the project has been amended. FOGL will be paid a combined $10 million by Rockhopper and Premier for their failure to drill the Jayne East well as Falkland Oil is carried on its exploration work under the agreement.
Rockhopper, in its own statement, said it will pay Falkland $ 4 million, of which it will pay $2 million immediately and the balance in 2016. Premier Oil will pay the additional 6 million, but the company has not released a statement confirming this or outlining the payment schedule.
FOGL will still be carried for its 40% worth of costs on the replacement well, it said.
Swapping Jayne East for a further well on Isobel/Elaine is subject to the final approval of the Falkland Islands government.
The replacement well, if approved, will target the Isobel Deep reservoir where it has already intersected oil in a previous well. However, the previous well drilled could not be logged or sampled for mechanical reasons.
The replacement well is also expected to encounter additional reservoir targets in the Elaine South and Isobel Shallow fans. The well will be drilled once the results of the recently drilled Humpback well has been received.
FOGL said drilling on the Humpback well has recommenced after it faced delays due to equipment issues, and said the results from the well should be ready in "early October".
Drilling had been delayed already, and FOGL which is partnered with US major Noble in Humpback, added that the resolution of equipment issues on the rig had taken longer than expected to complete. Drilling has now resumed, however.
Humpback is by far the largest exploration prospect in the program, and it is anticipated that a successful result – an oil discovery – could be transformational for FOGL.
"The Isobel Deep well drilled in May significantly de-risked the Isobel/Elaine fan complex which represents a new play in a previously underexplored part of the North Falkland Basin. We are delighted that agreement has been reached to drill another well on the Isobel/Elaine complex," said Rockhopper Chief Executive Sam Mood.